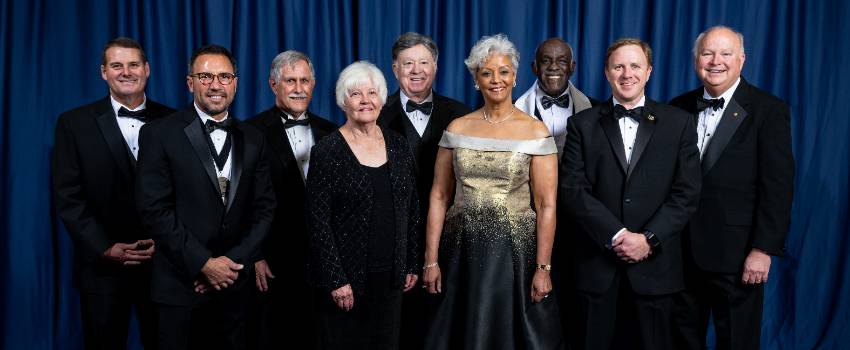 The Eighteenth Annual Distinguished Alumni & Services Awards Gala was held Thursday, March 2, at the MacQueen Alumni Center on the University of South Alabama campus. With more than 200 guests in attendance, the evening included the gathering of friends and family, making new memories and tears of joy and gratitude. Vice President for Development and Alumni Relations, Margaret Sullivan, shared, "The Distinguished Alumni & Service Awards Gala was a magical evening celebrating amazing alumni and friends making a positive difference in this world. I am inspired by our alumni and in awe of their achievements."
This year the association awarded seven recipients with honors. Christopher M. Blankenship '92, James B. Estabrook, Jr. '68 and John Ethan Bonds Shell '00 received the Distinguished Alumni Award. Margie Malone Tuckson '73 received the Distinguished Service Award. Robert Edward Battles, Sr. '69 received the V. Gordon Moulton Distinguished Service Award. Drs. John W. and Sally Steadman received the William J. "Happy" Fulford Inspirational Achievement Award. The Poarch Band of Creek Indians received the Community Partner Award.
The awards were created in 2005 by the South Alabama National Alumni Association Board of Directors to honor outstanding South alumni and community members. Karen Edwards '80, Executive Director of the South Alabama National Alumni Association, adds, "It is such an honor to recognize these outstanding individuals and all they have accomplished. From unparalleled success in their careers to dedicated and unwavering service, South alumni are truly making a difference in our communities and worldwide. We couldn't be more proud!"
President of the South Alabama National Alumni Association, Kim Lawkis '11, '13 declared, "My how far we've come since our first Distinguished Alumni & Services Awards program 18 years ago held in the Student Center Ballroom. Last week's event was an impressive showing of support from our alumni, university and business community. It was an opportunity to highlight the meaningful work our alumni are conducting in communities across the country and the impact that work has on our region and across the globe."
President Bonner shared this sentiment that we can all get behind. "It was an honor for Janée and me to be there. A year ago was my first Distinguished Alumni & Service Awards Gala. It was a memorable experience because it looked much like what attendees saw that evening. A packed house in a beautiful location, celebrating the achievements of our alumni and friends. The event serves as a reminder of who we are and the greatness of who our students can be."
The gala spotlighted what many of us already know, that a degree from USA goes far beyond just preparing students for their first job. A degree from USA is the solid foundation upon which graduates build a lifetime of success and service in their careers and communities.
Congratulations again to this year's recipients!
View photos from this year's gala.
View the videos of each recipient.
---
Stay Connected