Dr. Bret Webb Receives D.CE Certification
---
Posted on October 10, 2015 by Kelly Jackson
Kelly Jackson
---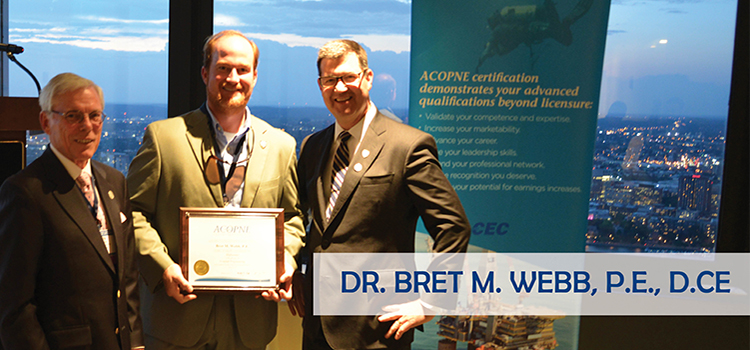 Dr. Bret Webb (center) receiving his D.CE certificate at the ACOPNE Induction Ceremony in September 2015 at the National ASCE Conference in Boston.
---
Dr. Bret Webb, Civil Engineering Associate Professor, has recently been honored with the additional credentials of D.CE (Diplomate, Coastal Engineering). This professional certification is awarded by the Academy of Coastal, Ocean, Port, & Navigation Engineers (ACOPNE), a Board Certification group affiliated with the American Society of Civil Engineers.
This additional ACOPNE credential recognizes expertise in a specific, and specialized, field of civil engineering. Becoming a Board Certified engineer is one of the highest recognitions a civil engineer can achieve.
Dr. Webb joined the USA Engineering faculty in 2007 and was promoted to Associate Professor in 2014. He obtained his Ph.D and M.S. degrees in Coastal and Oceanographic Engineering from the University of Florida, and he is a licensed Professional Engineer (PE) in the states of Alabama and Florida.
Coastal engineering is a specialty area of civil engineering that accounts for the unique wave, tide, and sand transport processes in the planning, design, and operation of civil engineering infrastructure within the coastal environment. As a coastal engineer, Dr. Webb's research interests include nature-based shoreline protection, resilience, vulnerability, and general coastal processes like waves, tides, storm surge, and sediment transport.
The University of South Alabama is one of only 15 universities in the United States that offers Coastal Engineering as a specialty area of study and research.
---
---