USA Students Win IEEE SoutheastCon 2015 Hardware Competition
---
Posted on April 15, 2015 by Kelly Jackson
Kelly Jackson
---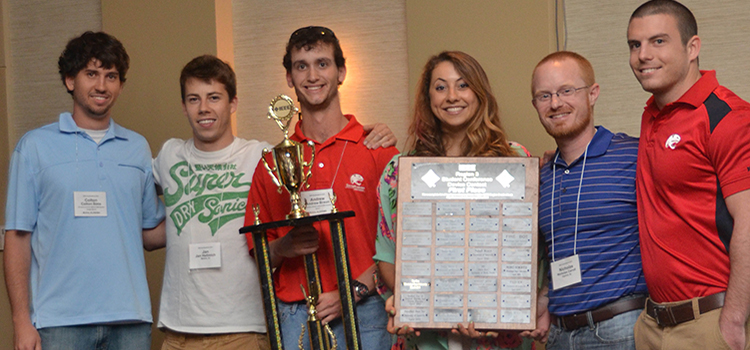 USA Students accepting their trophy at the 2015 IEEE SoutheastCon Awards Banquet. From left, Colton Sims, Jan Hellmich, Andrew Braun, SoutheastCon Representative, Nicholas Carroll, and Kenneth Leggett. Photo credit: Nova Southeastern University
---
The University of South Alabama's College of Engineering brought home the first place trophy in the IEEE SoutheastCon 2015 Hardware Competition. Over 50 engineering colleges across the Southeastern U.S. participated in this year's competition that took place in Fort Lauderdale, Florida.
The students began work on their robot – lovingly named "Betsy" – when competition rules were announced in October 2014. Their autonomous robot had to run through a maze and complete four retro-themed tasks: play Simon Says for 15-seconds, rotate a Rubik's Cube section 180 degrees, write "IEEE" on an Etch a Sketch, and remove the top card of the deck. The robot had to drive itself up to each game, physically manipulate the game correctly, and complete all four in five minutes. Each team had three attempts at the maze and points were awarded for each task and for the time of each run.
The University of South Alabama was the only team to achieve three perfect runs – successfully completing all four tasks each time.
The students who attended the competition were Electrical Engineering students Andrew Braun (Team Captain), Colton Sims, and Kenneth Leggett and Mechanical Engineering students Jan Hellmich and Nicholas Carroll. Other students involved in the project were Brannon Kerrigan, Paul Miller, Matthew Kamen, and John Shell. The faculty advisors for this project were Dr. Samuel Russ (ECE) and Dr. David Nelson (ME).
"I knew the students were up to something good when they showed me the working Etch-a-Sketch in February," said faculty advisor Dr. Russ. "So I was hoping they would be competitive. But first place? That is superb! I wish I could take more credit, but they did all the work themselves – very impressive!"
The team left Mobile the Friday of the conference driving 12 hours straight to the competition location. They faced a few glitches with their robot upon arrival and worked through the night getting "Betsy" ready for the next day. These five USA students did not sleep until the competition was over Saturday afternoon.
One of the most impressive things about this win was the meager $1,500 budget the team had to work with to build the robot itself – compared to the several thousand dollars some of the other leading teams had. Team Captain Andrew Braun gives high praise to the College of Engineering, saying "This was a great and rewarding accomplishment for our team, as well as the entire university, and the opportunity wouldn't be possible without the support of Dean Steadman, Dr. Russ, and Dr. Nelson, as well as their administrative staff."
The students are also thankful for the support of USA's Student Government Association who provided the money for the robot and an additional $2,000 for their registration fees and travel. Dr. John Steadman, dean of the USA College of Engineering, provided additional financial assistance with their travel and lodging.
"The entire faculty joins me in congratulating this team of students on their outstanding accomplishment," said Dr. Steadman. "Their success speaks highly of their technical knowledge, work ethic, and teamwork!"
All five team members who attended the competition are graduating this May with a B.S. degree in Electrical or Mechanical Engineering. Andrew Braun (Grissom High School, Huntsville, AL), Colton Sims (Northview High School, McDavid, FL), and Jan Hellmich (Landschulheim am Solling, Germany) came to the University of South Alabama as first-time freshman in 2011. Braun and Sims both received a four-year Presidential Scholarship, and Hellmich was a student athlete (tennis) at USA his first two years.
Nicholas Carroll (Faulkner State Community College, Fairhope, AL) and Kenneth Leggett (Mississippi Gulf Coast Community College, Lucedale, MS) both transferred to USA from community colleges and were USA-Link Transfer Scholars.
The Southeast Region of IEEE consists of Alabama, Florida, Georgia, areas of Indiana, Kentucky, Mississippi, North Carolina, South Carolina, Tennessee, Virginia and the country of Jamaica. Their competition included teams from the University of Alabama (which placed 2nd), Florida State, Duke, Georgia Tech, Clemson, and Mississippi State.
IEEE (Institute of Electrical and Electronics Engineers) is an international professional organization. SoutheastCon is an annual professional, technical, and student conference.
---
---