Class of 40 Under 40
---
Posted on January 21, 2022 by USA College of Engineering
USA College of Engineering
---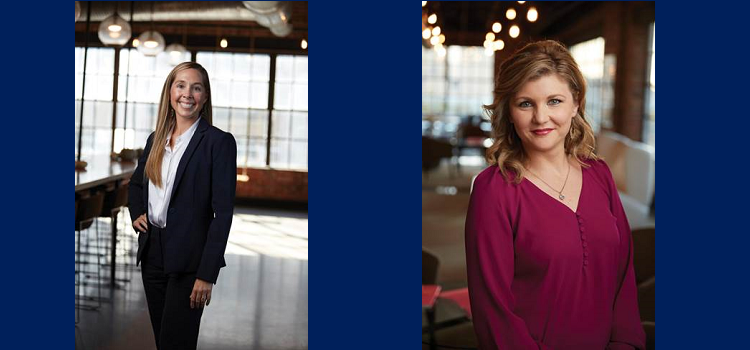 USA Engineering Alumni: Ashley Kleinschrodt and Dee Anne Odom
---
Congratulations to two of the College of Engineering alumni for being recognized as part of the Mobile Bay's 2022 Class of 40 under 40: Ashley Kleinschrodt and Dee Anne Odom.
"This year's class of young professionals is raising the bar of success and inspiring optimism for this new year on the Bay."
---
Ashley Kleinschrodt: Chief of Navigation, U.S. Army Corps of Engineers
Ashley oversees, manages and leads a team of engineers in the dredging and dredged material disposal operations of numerous channels along the Gulf Coast while also overseeing the management of approximately 2,200 miles of inland waterways across the Southeast. During her 13 years with the Corps, she has received numerous awards and distinctions and is a recognized technical expert in her field. The Mobile native sails competitively and has won both gold and bronze medals for crewing. In the community, Ashley is involved in growing young students' interests in the Science, Technology, Engineering and Math (STEM) fields and has volunteered at Grand Bay Middle School's Career Day and participated in the Girls Exploring Math and Science event held at the University of South Alabama.
Alma mater: University of South Alabama
Hometown: Mobile
Spouse + children: Paul; Joie (6), Parks (1)
Hobbies: Boating, sailing, gym, fantasy football
Hidden talent: I can leg press 360 pounds.
Guilty pleasure: Spice Girls and Ace of Base
Where would you take an out-of-town guest to eat? Front Yard Tacos and Nova for a matcha
High school superlative: I didn't have one, but my 30s superlative is "most likely to have everyone drinking tequila by end of the night."
Favorite thing about your job: Understanding that our job of keeping the waterways maintained and open for cargo vessels has a direct impact on the economy and local community.
Dee Anne Odom: Distribution Support Manager, Alabama Power
Dee Anne has established herself as a primary thought leader whose attitude and tremendous work ethic equip her to be an impactful leader. In her role, Dee Anne is responsible for planning Alabama Power's response to major storm restoration events and for leading those efforts during the restoration. In 2020, she led local restoration efforts after hurricanes Sally and Zeta. Dee Anne enjoys participating in programs that focus on engaging youth in engineering. She has served on the Alabama Power Service Organization board and as a district director for Tau Beta Pi engineering honor society, working with engineering students in universities from Alabama, Mississippi, Tennessee and Kentucky.
Alma mater: University of South Alabama, University of Alabama
Hometown: Satsuma
Spouse + children: Jonathan; Bryson (5), Blakeley (3)
Guilty pleasure: Eating chips and salsa for dinner
Hidden talent: Memorizing the words to any and every song
High school superlative: Witty
Best advice you've ever received: Focus on the things you can control. Worrying about the other things fixes nothing.
Where would you take an out-of-town guest to eat? Dauphin's for the beautiful views
Favorite thing about your job: Getting the lights back on after a storm and mentoring younger engineers.
If I were mayor, I would… work to reduce youth crime and make the city even more business friendly.
For the full article, select: Mobile Bay's 2022 Class of 40 Under 40.
---
---