Studying Sea-Level Rise
---
Posted on November 1, 2021 by Lance Crawford
Lance Crawford
---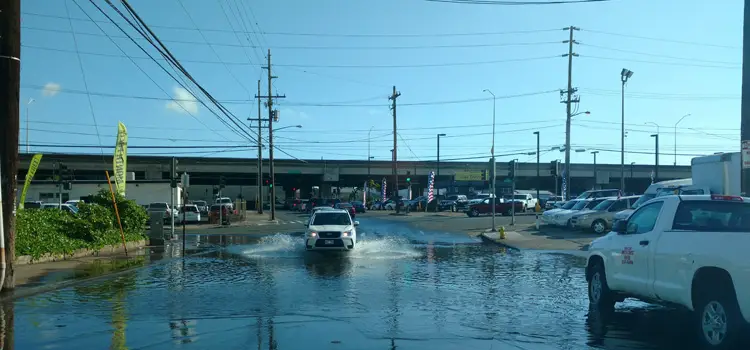 Saltwater flooding in a busy intersection in Oahu, HI is the result of sea level rise causing higher tides that back up the stormwater system. This type of flooding is known as "high tide flooding," "sunny day flooding," or "nuisance flooding." It's an example of how sea-level rise is affecting everyday life in coastal regions.
---
The University of South Alabama is part of a research consortium that received a $1.8 million grant from the National Oceanic and Atmospheric Administration to study the ways increasing water hazards are damaging roadways that serve coastal communities.
Auburn University and the University of New Hampshire are also involved in the program with a goal to develop adaptation alternatives that lead to more resilient coastal infrastructure and enhanced coastal ecosystems.
"South has a long tradition of excellence in both coastal transportation resilience and nature-based solutions research and applications, making us uniquely qualified to participate on these research projects," said Dr. Bret Webb, USA professor of civil engineering.
Rising sea levels that increase the prevalence of recurrent tidal flooding and storm surge negatively impact coastal infrastructure.
More than 40% of the U.S. population lives in a coastal county, and that number is increasing with increased growth in those areas. There are over 60,000 miles of major coastal highways and tens of thousands of bridges that are exposed - at least occasionally - to coastal hazards and the impacts of long-term sea level rise.
"So much of our nation's wealth, security, commerce, defense and well-being are tied to the coast, and they will all be threatened by long-term sea level rise in some way either directly or indirectly," Webb said.
Rising sea levels exacerbate hurricane and tropical storm surges, but also can cause damage not easily seen.
"Sea level rise causes a lot more problems than just flooding," said Dr. Stephanie Smallegan, USA assistant professor of civil and coastal engineering. "Our freshwater supplies may experience saltwater intrusion with rising seas."
Smallegan added that saltwater intrusion can cause costly problems such as corrosion of underground utilities, sewer backups and reduced drainage capabilities.
"We need to actively plan for and invest in our infrastructure to protect it from rising seas and ensure our quality of life," she said.
Damages and economic losses could be reduced if decision makers better understand the impacts of sea level rise and have access to science that provides insight on potential solutions.
"If we want to get out in front of this problem we need to act now, act decisively, and act on the best available science," Webb said. "We will soon face problems that we did not know even existed, demanding solutions that do not yet exist, with impacts that we cannot yet fully understand."
---
---