3rd Annual Cast in Steel Competition
---
Posted on May 17, 2021 by USA College of Engineering
USA College of Engineering
---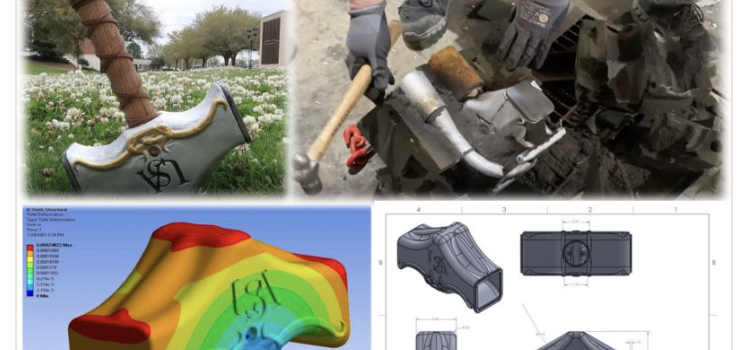 Team USA 2021 - Thor's Hammer
---
A team from the USA College of Engineering received two awards at the 3rd Annual Cast in Steel Competition. The event, which is sponsored by the Steel Founders' Society of America (SFSA) is intended to promote student interest in careers in the steel casting industry. The year's competition involved 27 teams from colleges throughout North America. Each team was required to design and produce a functioning Thor's Hammer. Each hammer was subjected to multiple performances tests. Design, material, ease of use, and strength of the hammer were all tested. To see the test videos, click on the SFSA Competition Website.
The University of South Alabama Cast in Steel Team partnered with the Howell Foundry LLC to produce Thor's Hammer. The team received the Best Video Award, one of the three main awards for the competition as well as "Ben's Honorable Mentions" for the Most Creative Alloy Combination.
The student team members for 2021 were Willis Jones, David Matranga, Jonathan McLeod, Mauricio Mendez-Vallejos, and Jason Penninger, all Mechanical Engineering majors.
More information on the SFSA competition is available through this link.

---
---