USA Launch Society: 1 of 60 Selected by NASA to Compete
---
Posted on October 16, 2021 by USA College of Engineering
USA College of Engineering
---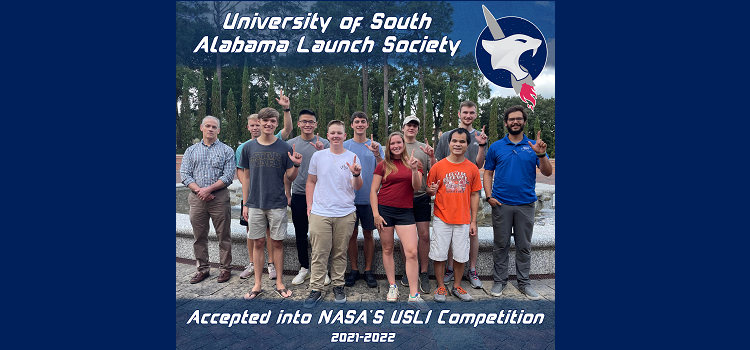 University of South Alabama Student Launch Society, L to R: Dr. Richardson, Vincent Patterson, Alex Jin, Coleman Davis, Thomas Box, Aaron Godfrey, Dr. Montalvo, Front Row L to R: Sam Jesse, Matthew Laski, Caroline Franklin, and Timothy Patrick
---
The University of South Alabama, College of Engineering's student Launch Society team was one of sixty teams selected by NASA to compete in 2022.
"The nine-month challenge, managed by NASA's Southeast Regional Office of STEM Engagement and held at Marshall Space Flight Center in Huntsville, Alabama, provides a realistic experience for middle school, high school, and college students to follow the engineering design process NASA and industry engineers use when developing and operating new hardware.
The student teams are required to design, build, test, and fly a payload and high-powered amateur rocket to an altitude between 3,500 and 5,500 feet. Teams also must meet multiple documentation and presentation milestones with NASA experts as they develop their rocket. The reports often total hundreds of pages of work by the end of the competition year."
For the full press release, select NASA Announces 60 Teams for 2022 Student Launch Competition
---
---