USA Music Business Student Association participates in the GET CONNECTED day at USA's Mitchell College of Business
---
Posted on October 16, 2014 by Keith Bohnet
Keith Bohnet
---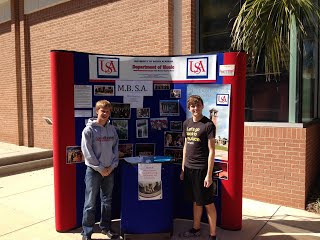 Music Business "Gets Connected"
---
Members of the Music Business Student Association (MBSA) participated in the GET CONNECTED day at the Mitchell College of Business on Friday October 17th. MBSA was one of many campus organizations that had booths encouraging students to get involved in students activities. Booth participants had a chance to interact with USA students as well as students from area high schools.

The booth represented the Department of Music and promoted MBSA's new presence at the University of South Alabama. An extension of the Music Business concentration, the group focuses on career interests that extend beyond teaching, performing, or composing. These interests in music include management, marketing, production, legal, technology, artist relations, manufacturing, merchandising, repair, event planning, and more. Most recently MBSA volunteered at Bay Fest as well as participated in the SGA SOLD event. Pictured are Reed Gilmore (President) and Jake Cannon (Vice President) managing the booth.
---
---