New, Experimental and Improvised Music Concert October 21 at Laidlaw
---
Posted on October 20, 2014 by Keith Bohnet
Keith Bohnet
---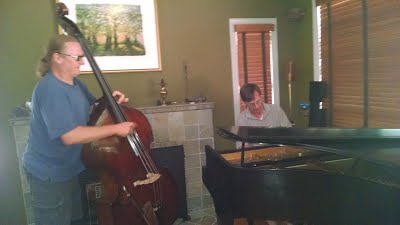 Scott Walton and David Durant
---
The University of South Alabama Department of Music is pleased to present the fourth edition of the New, Experimental and Improvised Music Concert on Tuesday, October 21 at 7:30 PM in the Recital Hall of the Laidlaw Performing Arts Center. The event will feature two guest performers and a number of USA students.
Returning to the USA stage for the first time since his retirement in August 2014 will be pianist Jerry Alan Bush. Dr. Bush retired as a Professor of Music and Head of the Piano Program at USA, where he taught piano performance and literature for 43 years. He maintains an extensive career as a recitalist and master clinician and as an adjudicator for numerous competitive piano events. Bush will be premiering a new work for piano by David Z. Durant titled "After the Impact." Durant is the founder and director of the "New, Experimental and Improvised Music Concert Series." He directs the Music Theory and Technology program at USA where he teaches composition, technology and theory.
Appearing at USA for the first time is bassist and pianist Scott Walton. His music negotiates the terrain between jazz, free improvisation, and the classical avant-garde. Praised for his "dramatic" soloing (Downbeat), "graceful fluidity" (All About Jazz), and "propulsive energy" (OneFinalNote), the Downtown Music Gallery proclaims that Walton "consistently shines" as a bassist. He has performed in festivals and major venues throughout North America and Europe with groups he co-leads, and in a host of collaborative contexts. Walton and Durant have collaborated for almost 40 years as a duo beginning when they were both students at the University of Florida. Walton will perform in a duo on bass with Durant on piano; as pianist in a two piano duet with Durant; and on bass in a quartet with Durant on piano, Luke Smith on vibraphone, and USA junior Ryan Boehme on percussion.
Boehme will also appear with USA junior and tenor Myles Garver on "Mercury and His Ghost" a piece written by USA junior Luke Smith for drum set and voice. Smith is a composition student of David Durant. The piece is inspired by Thom Jones' character Ad Magic from his short story "A White Horse." Smith has also transcribed a Debussy String Quartet for four marimbas and assorted percussion. There will be a number of USA musicians involved in this piece.
Smith will also coordinate John Zorn's composition "Cobra." This is an improvisatory game piece in which an ensemble of improvisers determines the direction of the piece. The score for the piece doesn't indicate duration, instrumentation, or any markings related to the music made. The score is an explanation of the rules which the performing ensemble has to follow. These rules indicate who is playing at certain times and what style they are playing in. When a rule is put into motion it instantly and often drastically alters the course of the improvisation. This year marks the thirtieth anniversary of Cobra. There will also be a number of USA musicians involved in this piece.
Tickets for this Department of Music event will be sold at the door only. Admission is $8 general and $5 for USA faculty & staff, USA students, youths under 18 and all senior citizens (cash or check only). Persons needing more information about this event or in need of special accommodation may call (251) 460-7116 or (251) 460-6136.
Need directions to Laidlaw? Just go to Google Maps at www.maps.google.com and enter "USA Laidlaw Performing Arts Center." We're actually on the corner of University Blvd. and USA Drive South.
Musical Arts Series Season Pass Holders may now reserve their place at concerts if they contact events coordinator Keith Bohnet by 5:00 p.m. the day previous to the event! Call (251) 460-7116 or email kbohnet@southalabama.edu. Please mention the amount of seats needed AND be sure you are planning on being in place at least 20 minutes in advance of the concert! (Pass Holders only please! Held seats not claimed within 20 minutes of the performance may be offered to other concert attendees.)
For information on how to join the Musical Arts Society, visit our website at www.southalabama.edu and click on "events" to see everything you need to know about the Musical Arts Concert Series and USA's Musical Arts Society.
---
---