Four Vandoren Clarinet Ensemble Festival Concerts March 21 at Laidlaw
---
Posted on March 15, 2015 by Keith Bohnet
Keith Bohnet
---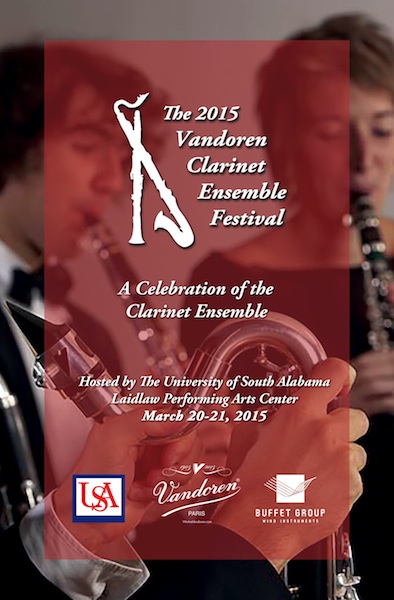 Vandoren Clarinet Ensemble Festival
---
The 10th Annual Vandoren Clarinet Ensemble Festival will take place in Mobile in March, hosted by the Department of Music at the University of South Alabama. On Saturday, March 21 throughout the day, the festival will feature three concerts (10:15, 11:30, and 2:15) by clarinet ensembles of all sizes from duos to full choirs from around the United States. The event will also showcase a finale concert of the mass festival choir of all attending participants, conducted by Festival Director Mitchell Estrin (7:00 p.m.).
During the two-day festival, there will be vendor displays from Buffet Crampon, Vandoren, Jeanne Inc., Art's Music, Andy's Music, and educational presentations will also take place.
The festival is free and open to the public. Persons needing more information about this event or in need of special accommodation may call (251) 460-7116 or (251) 460-6136. Associate Director of Bands Dr. Michael Phillips is the university host for this event.
Tentative Performance Schedule
10:15-11:00 "Opening Performance" featuring the USA Clarinet Ensemble and University of Florida Clarinet Ensemble.
11:30-12:15 Concert #2 featuring Melomane Duo, Southern Mississippi Graduate Clarinet Quartet and Asheville High School Clarinet Ensemble.
2:15-3:15 Concert #3 featuring Tosca Duo, Novacane Quartet and Stetson Pitches
7:00 p.m. Festival Mass Clarinet Choir - Finale Concert
-------------------------------
Need directions to Laidlaw? Just go to Google Maps at www.maps.google.com and enter "USA Laidlaw Performing Arts Center." We're actually on the corner of University Blvd. and USA Drive South.
---
---