USA Music Students Present their Summer Research at Undergraduate Research Symposium
---
Posted on October 15, 2015 by Rebecca Mindock
Rebecca Mindock
---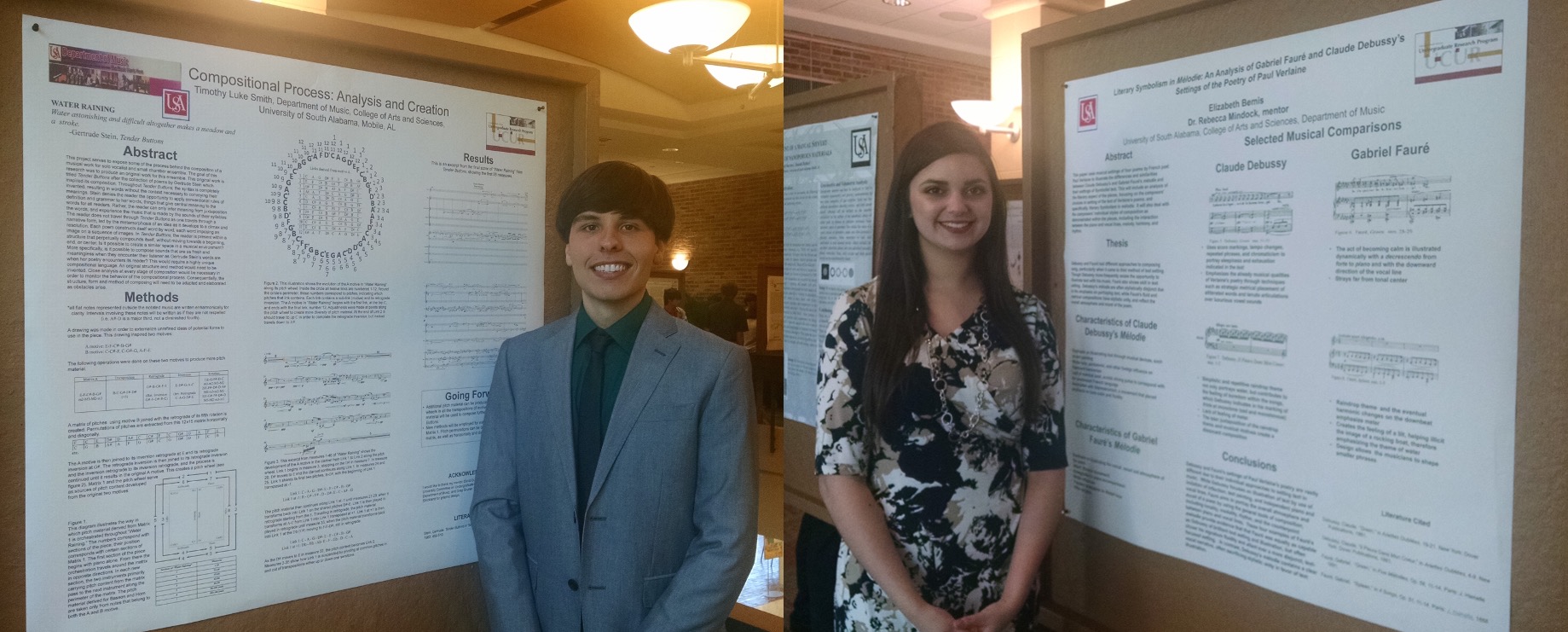 ---
USA Music students Luke Smith (BM, Performance-Instrumental) and Elizabeth Bemis (BM, Performance-Vocal) participated in the university's Undergraduate Research Program this past summer, and presented their work at today's Undergraduate Research Symposium, sponsored by the University Committee for Undergraduate Research (UCUR).
The UCUR program requires students to submit proposals for a competitive selection process, which, once accepted, allows them to engage in funded research projects throughout the summer, guided by a mentor in their discipline. Luke Smith's project, "Compositional Process: Analysis and Creation," which involved the development of new compositional methods and resulted in an original composition which Smith hopes to have performed in the near future, was mentored by Dr. David Durant. Elizabeth Bemis's project, "Literary Symbolism in Mélodie: An Analysis of Gabriel Fauré and Claude Debussy's Settings of the Poetry of Paul Verlaine," was mentored by Dr. Rebecca Mindock.
Both Bemis and Smith gave poster presentations of their work at today's symposium. Smith's work was given an additional honor; at each year's symposium, only a handful of students -- one representing each major discipline -- are invited to give an oral presentation of their work, and Smith was selected to present his work as the representative for the Humanities.
While most participants in the Undergraduate Research Program come from the STEM disciplines, the USA Department of Music is proud to be regularly represented amongst the vast wealth of student research and creative activity taking place at USA. The university-wide inclusiveness of the Undergraduate Research Program and UCUR provides USA Music students with the potential resources and support to build research skills and engage in creative projects that will benefit their education and development not only during their time at USA, but also in their future musical and academic pursuits. Current USA Music students interested in pursuing funded summer research and creative projects are encouraged to speak to USA Music faculty members about mentorship and possible project proposals for future summers.
---
---