Steve Reich at 80: The Early Phase - Concert January 26
---
Posted on January 21, 2016 by Keith Bohnet
Keith Bohnet
---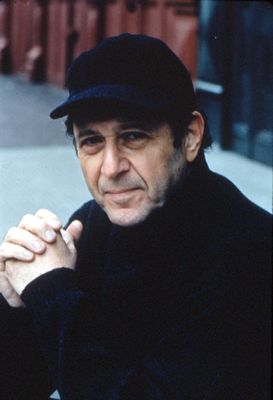 Composer Steve Reich
---
On January 26 at 7:30 p.m., the USA Department of Music is pleased to present the first of four concerts celebrating the music of the world-renowned, Pulitzer Prize winning, American composer Steve Reich. 2016 marks the 80th birthday of Mr. Reich, and as a result the Department of Music will be commemorating the composer's lifelong contributions to the world of contemporary classical music through a series of four, retrospective concerts, all in the Laidlaw Performing Arts Center. Each installment will highlight a specific stylistic period of Mr. Reich's artistic output.

For the first concert, The Early Phase, Department of Music percussion professor, Dr. Luis Rivera, and students of the USA Percussion Ensemble will perform four of Mr. Reich's earliest works - It's Gonna Rain, Come Out, Melodica, and Piano Phase. These works illustrate the beginning of compositional techniques Mr. Reich discovered back in 1965 that he still employs to this day, a half century later. Please join us for what will surely be an exciting evening looking back at one of our most influential figures in classical music history.

Tickets for this Musical Arts Series event will be sold at the door only. Admission is $8 general and $5 for USA faculty & staff, USA students, youths under 18 and all senior citizens (cash or check only). Persons needing more information about this event or in need of special accommodation may call (251) 460-7116 or (251) 460-6136.

More information about the featured composer, Steve Reich

Steve Reich was recently called "our greatest living composer" (The New York Times), "America's greatest living composer." (The Village VOICE), "...the most original musical thinker of our time" (The New Yorker) and "...among the great composers of the century" (The New York Times).. From his early taped speech pieces It's Gonna Rain (1965) and Come Out (1966) to his and video artist Beryl Korot's digital video opera Three Tales (2002), Mr. Reich's path has embraced not only aspects of Western Classical music, but the structures, harmonies, and rhythms of non-Western and American vernacular music, particularly jazz. "There's just a handful of living composers who can legitimately claim to have altered the direction of musical history and Steve Reich is one of them," states The Guardian (London).

In April 2009 Steve Reich was awarded the Pulitzer prize in Music for his composition 'Double Sextet'. In October 2006 in Tokyo, Mr. Reich was awarded the Praemium Imperiale award in Music. This important international award is in areas in the arts not covered by the Nobel Prize. Former winners of the prize in various fields include Pierre Boulez, Lucian Berio, Gyorgy Ligeti, Willem de Kooning, Jasper Johns, Richard Serra and Stephen Sondheim. In May 2007 Mr. Reich was awarded The Polar Prize from the Royal Swedish Academy of music. The prize was presented by His Majesty King Carl XVI Gustaf of Sweden. The Swedish Academy said: "...Steve Reich has transferred questions of faith, society and philosophy into a hypnotic sounding music that has inspired musicians and composers of all genres." Former winners of the Polar Prize have included Pierre Boulez, Bob Dylan, Gyorgi Ligeti and Sir Paul McCartney. In December 2006 Mr. Reich was awarded membership in the Franz Liszt Academy in Budapest and in April 2007 he was awarded the Chubb Fellowship at Yale University. In May 2008 he was elected to the Royal Swedish Academy of Music.

---------

Need directions to Laidlaw? Just go to Google Maps at www.maps.google.com and enter "USA Laidlaw Performing Arts Center." We're actually on the corner of University Blvd. and USA Drive South.

Musical Arts Series Season Pass Holders may now reserve their place at concerts if they contact events coordinator Keith Bohnet by 5:00 p.m. the day previous to the event! Call (251) 460-7116 or email kbohnet@southalabama.edu. Please mention the amount of seats needed AND be sure you are planning on being in place at least 20 minutes in advance of the concert! (Pass Holders only please! Held seats not claimed within 20 minutes of the performance may be offered to other concert attendees.)

For information on how to join the Musical Arts Society, visit our website at www.southalabama.edu/music and click on "events and programs" to see everything you need to know about the Musical Arts Concert Series and USA's Musical Arts Society.
---
---