USA Percussion Ensemble Spring Concert - "Steve Reich at 80" April 11 and 12
---
Posted on April 8, 2016 by Keith Bohnet
Keith Bohnet
---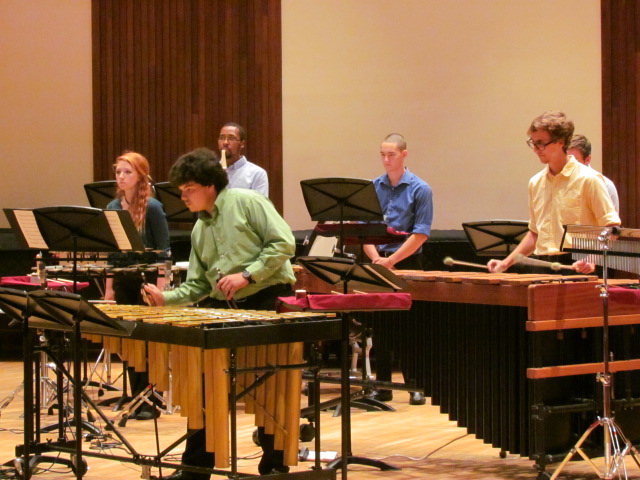 USA Percussion Ensemble
---
The USA Percussion Ensemble is pleased to present their Spring Concerts -- April 11 and April 12 at 7:30 p.m. in the Laidlaw Performing Arts Center -- with the final installment of performances celebrating the music of the world-renowned, Pulitzer Prize winning, American composer Steve Reich. 2016 marks the 80th birthday of Mr. Reich, and as a result the Department of Music has been commemorating the composer's lifelong contributions to the world of contemporary classical music through a series of four, retrospective concerts. Each installment has highlighted a specific stylistic period of Mr. Reich's artistic output. These concerts will also feature guest percussion artist Oliver Molina.
Tickets for this Musical Arts Series event will be sold at the door only. Admission is $8 general and $5 for USA faculty & staff, USA students, youths under 18 and all senior citizens (cash or check only). Persons needing more information about this event or in need of special accommodation may call (251) 460-7116 or (251) 460-6136.
More about the concerts and Guest Artist Oliver Molina
These final concerts will feature all of Reich's compositions for the contemporary percussion ensemble. As a young music student in the 1950s, Reich took private percussion lessons from Roland Kohloff, who would become the timpanist of the San Francisco Symphony from 1956-1973 and then the New York Philharmonic from 1973-2005. Since the beginning of his compositional career, Reich has included percussion instruments as prominent voices in nearly all of his compositions, including several works that are considered staples in the percussion ensemble canon. The USAPE concerts will present in chronological order: Drumming, Clapping Music, Music for Pieces of Wood, Six Marimbas, Nagoya Marimbas, and Mallet Quartet.
The USAPE Spring Concerts will also feature guest percussion soloist Dr. Oliver Molina, professor of percussion at Northwestern State University in Louisiana. Dr. Molina will perform Nagoya Marimbas with Dr. Luis Rivera for the Reich portion of the program, and then will be featured as a soloist with the USAPE performing Baljinder Sekhon's Passageways for solo steel pan and percussion quintet. Please join us for what will surely be an exciting evening of historically significant and new works for percussion!
-----------------
Need directions to Laidlaw? Just go to Google Maps at www.maps.google.com and enter "USA Laidlaw Performing Arts Center." We're actually on the corner of University Blvd. and USA Drive South.
Musical Arts Series Season Pass Holders may now reserve their place at concerts if they contact events coordinator Keith Bohnet by 5:00 p.m. the day previous to the event! Call (251) 460-7116 or email kbohnet@southalabama.edu. Please mention the amount of seats needed AND be sure you are planning on being in place at least 20 minutes in advance of the concert! (Pass Holders only please! Held seats not claimed within 20 minutes of the performance may be offered to other concert attendees.)
For information on how to join the Musical Arts Society, visit our website at www.southalabama.edu/music and click on "events and programs" to see everything you need to know about the Musical Arts Concert Series and USA's Musical Arts Society.
---
---