USA Opera & Musical Theatre presents Gilbert & Sullivan's HMS Pinafore at Laidlaw April 22, April 23 and April 24
---
Posted on April 19, 2016 by Keith Bohnet
Keith Bohnet
---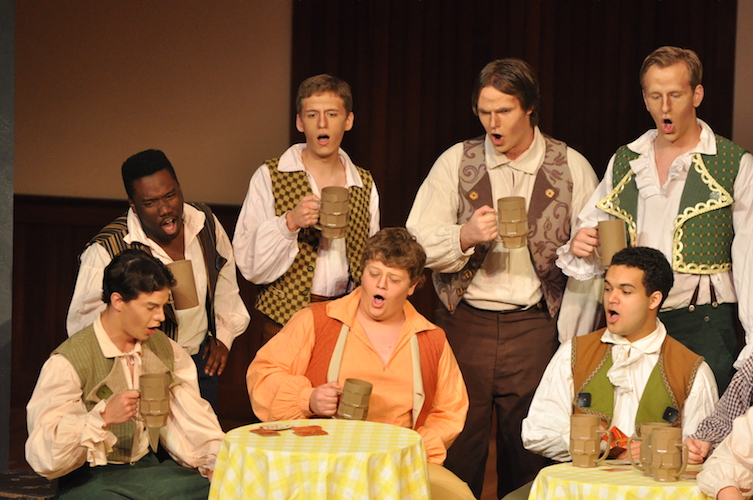 USA Opera and Musical Theatre
---
USA Opera presents HMS Pinafore April 22, 23 and 24 at Laidlaw!!
Boy meets girl. Boy falls in love with girl, who is socially far more upwardly mobile than he. Girl secretly loves boy (a big no-no!), but her father (who happens to be boy's boss) has arranged for her to marry another man of rank and status. Man of rank and status arrives with his entourage of sisters, cousins, and aunts to meet girl. Girl tries to flee with boy but is foiled by a one-eyed villain. A lowly traveling saleslady is madly in love with the girl's father, but cannot marry him because he is above her station and class. She confesses later to "baby farming" and everything goes haywire...
USA Opera Theatre presents another operatic farce of Gilbert and Sullivan, H.M.S. Pinafore, on April 22, 23, and 24, 2016, in the Recital Hall of Laidlaw Performing Arts Center. Directed of Thomas L. Rowell, USA's Coordinator of Vocal Studies, the production features the outstanding young singers in the USA Department of Music, and the USA Opera Orchestra under the baton of Robert J. Seebacher. (April 22 and 23 performances begin at 7:30 p.m.; April 24 performance begins at 3:00 p.m.)
NOTE: Advance tickets for HMS Pinafore performances may be purchased Monday-Thursday 3:30-6:30 p.m. in the USA Department of Music office at Laidlaw. $15 general admission and $10 for USA Faculty/Staff/Students and seniors citizens (cash or check only). MAS pass holders must purchase a separate ticket for this event. (Tickets of course will be on sale at the door on performance dates beginning one hour before show time. Tickets purchased will be for assigned seating.)
Persons needing more information about this event or in need of special accommodation may call (251) 460-7116 or (251) 460-6136.
Need directions to Laidlaw? Just go to Google Maps at www.maps.google.com and enter "USA Laidlaw Performing Arts Center." We're actually on the corner of University Blvd. and USA Drive South.
Musical Arts Series Season Pass Holders may now reserve their place at concerts if they contact events coordinator Keith Bohnet by 5:00 p.m. the day previous to the event! Call (251) 460-7116 or email kbohnet@southalabama.edu. Please mention the amount of seats needed AND be sure you are planning on being in place at least 20 minutes in advance of the concert! (Pass Holders only please! Held seats not claimed within 20 minutes of the performance may be offered to other concert attendees.)
For information on how to join the Musical Arts Society, visit our website at www.southalabama.edu/music and click on "events and programs" to see everything you need to know about the Musical Arts Concert Series and USA's Musical Arts Society.
---
---