Robert Holm - USA Piano Camp Faculty Recital June 13 (3:00)
---
Posted on June 6, 2016 by Keith Bohnet
Keith Bohnet
---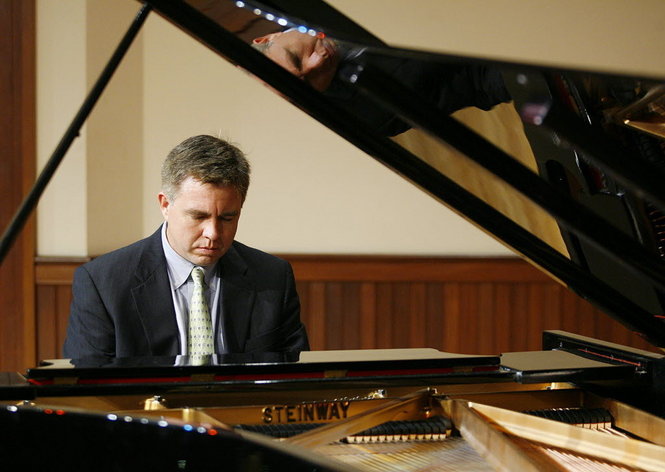 Dr. Robert Holm, USA Piano Camp Faculty
---
Dr. Robert Holm will perform the first of four Piano Camp Faculty Recitals on Monday, June 13 at 3:00 p.m. in the Laidlaw Performing Arts Center Recital Hall. The emphasis of this year's piano camp is American Music, hence Dr. Holm's program is filled with the work of American masters. Included in the concert will be Copland's Passacaglia, the Barber Ballade, Bernstein's Touches, and plenty of music by Billy Taylor, Dave Brubeck and Scott Joplin.
Tickets for this Department of Music event will be sold at the door only. General admission is $5 for all attendees other than Piano Workshop participants. MAS passes will be honored for these concerts. Persons needing more information about this event or in need of special accommodation may call (251) 460-7116 or (251) 460-6136, or go online at www.southalabama.edu/music and click on "events."
More information about the entire Piano Camp may be obtained through the USA Piano Camp web page -- southalabama.edu/colleges/music/pianocamp
The Program
Works performed on this first Piano Camp Faculty Recital by Dr. Holm will feature an amazing mix of American piano music. Pieces on the program by Copland, Barber and Bernstein happen to be the last piano solos each composer wrote and were commissioned to be premiered by contestants in the 4th, 5th and 6th Van Cliburn Competitions.
Confrey's frenzied "Kitten on the Keys" and W.C. Handy's plodding "St. Louis Blues" give the listener an idea of contrasting styles popular in the early 20th century.
Two selections each will be performed from important mid-20th century piano jazz albums: Dave Brubeck's "Time Further Out" and Billy Taylor's "Touch of Taylor."
And Scott Joplin, who believed his ragtime style of composition belonged in the classical genre, composed in many meters and styles. The program will conclude with the following examples of Joplin's style: program music, up-beat dance, waltz, 6/8 march, Mexican-serenade, slow dance and new virtuosity.
About the performer
Dr. Robert Holm, a Steinway Artist since 2010, is Professor of Music and head of the piano division at the University of South Alabama, principal pianist for the Mobile Symphony Orchestra and pianist at Dauphin Way Baptist Church. Holm has appeared as soloist with the Johnson City Symphony Orchestra, Alabaster (AL) Symphony, Mobile Symphony Orchestra, Mobile Youth Symphony, and Mobile Symphonic Pops. He has performed as soloist and collaborative artist at Steinway Hall in London, at Carnegie (Weill) Hall, at Lakehead University (Canada) and has given solo programs extensively throughout the United States. At USA, Holm has given 44 solo recitals including sonata cycles by Mozart and Beethoven and over 200 collaborative recitals.
--------------
Need directions to Laidlaw? Just go to Google Maps at www.maps.google.com and enter "USA Laidlaw Performing Arts Center." We're on the corner of University Blvd. and USA Drive South, and our physical address is 5751 USA Drive S., Mobile, AL, 36688.
For information on how to join the Musical Arts Society, visit our website at www.southalabama.edu and click on "events" to see everything you need to know about the Musical Arts Concert Series and USA's Musical Arts Society.
---
---