Sean Hamilton, Guest Artist Percussion Recital September 9 at Laidlaw
---
Posted on September 2, 2016 by Keith Bohnet
Keith Bohnet
---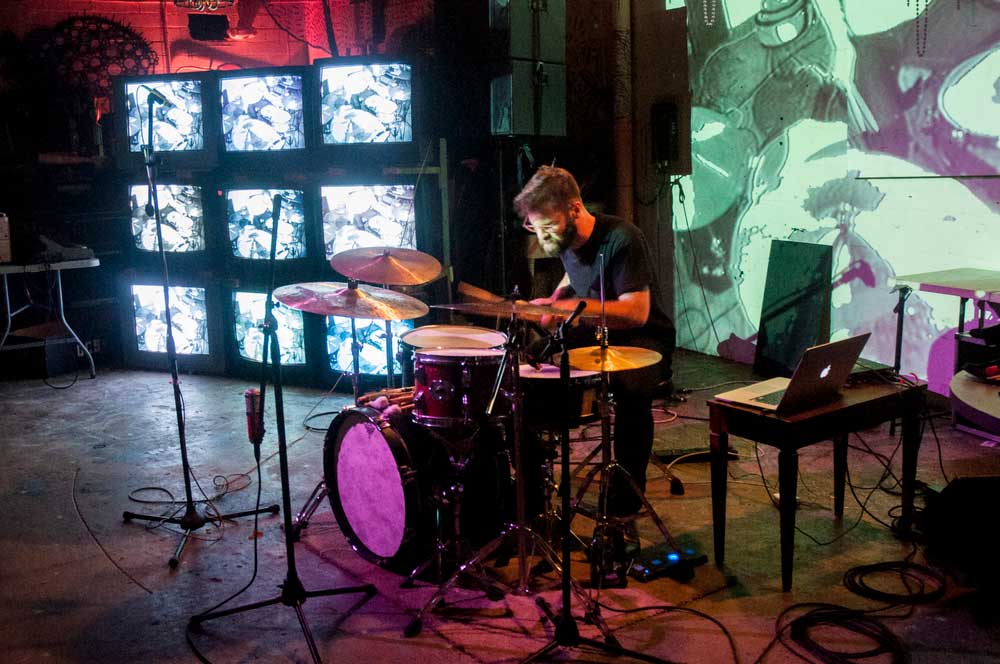 Sean Hamilton
---
The USA Percussion Studio is proud to host percussionist/composer Sean Hamilton in concert on Friday, September 9 at 7:30 p.m. In the Laidlaw Performing Arts Center Recital Hall. Mr. Hamilton will present a multimedia concert with improvisation and live sound processing on drum set and various electronic devices. Please refer to Mr. Hamilton's biography below for more information.
This Department of Music concert is free and open to the public. Persons needing more information about this event or in need of special accommodation may call (251) 460-7116 or (251) 460-6136.
About the performer
Sean Hamilton is a percussionist, composer, improviser, and collaborator whose interests primarily lie in the conjunctions of new music, electroacoustic music, free improvisation, experimental music, and interdisciplinary projects.
As a percussionist, Sean gave the world premiere of Stuart Saunders Smith's Queen Anne's Lace for solo vibraphone, an evening-length work commissioned by Sean. He has given numerous performances of improvised compositions for solo drum set and electronics, including one presented while serving as an artist-in-residence with Leeds Improvised Music and Experimentation (LIME) in Leeds, UK, and one at the "With Hidden Noise" exhibition at the University of South Florida Contemporary Art Museum. He has also given solo and joint recitals in Tampa, Orlando, and St. Petersburg, Florida and Slippery Rock, Pennsylvania, with additional performances in Georgia, New York, North Carolina, South Carolina, Pennsylvania, and the United Kingdom. He can be heard on several releases with the McCormick Percussion Group, including Plot: Music for Unspecified Instrumentation and Between Rock and a Hard Place, released on Parma's Ravello Records, two albums with his electroacoustic duo Mechanical Bull, and also as a performer with the Florida Wind Band in Tampa, Florida.
Sean has collaborated with numerous visual artists, dancers, choreographers, and musicians, including New Orleans Airlift, Lindsey Kelley Dance, Eli Blasko, Adam Wagerman, Jacqui Dugal, Mbulelo Ndabeni, Claire Lefevre, and Tatsuya Nakatani, and the University of South Florida Contemporary Art Museum. Notable projects include two weeks of creative research at the Phoenix Dance Theatre's Choreographers and Composers Lab in Leeds, UK, Insight: Kinetic Senses of Self, a performance featuring dancers, musicians, and a filmmaker, several collaborations with visual artist Eli Blasko including The Sublime Operator and a Science of Dropped Calls and Afterthought: Reflections on an Undefined Process, an untitled evening- length improvisational collaboration with Tatsuya Nakatani, David Pate, and Nathan Corder, and digital collaborations with Grey Space Collaborative (Pittsburgh, PA) and Sharon McCaman (Arizona).
Sean's original compositions include works for solo instruments, chamber groups, electroacoustic mediums, and fixed media. His work has been performed both in the United States and in Europe, with recent performances including I, Alone for tuba and electronics at the inaugural Electrobrass Conference in Tuscaloosa, Alabama, and The Days Are Growing Longer for solo percussion premiered at the University of North Texas. His sound installation Pedestrian Bridge was also recently shown at The Temporary Sculpture Garden, presented by The Charles Adams Studio Project in Lubbock, Texas.
In addition to his work as a composer and performer, Sean has founded several artistic projects, including Mechanical Bull, an electroacoustic duo he shares with guitarist/composer Nathan Corder, Hyperbolic Chamber Music, a contemporary music series he co-founded in St. Petersburg, Florida with Jesse Thelonious Vance and Grace Juliano, and The Impulse Collective, a group of musicians, dancers, visual artists, and writers dedicated to improvisation.
Sean's holds a Master of Music degree in percussion performance and music composition from the University of South Florida, where he studied with Robert McCormick (percussion), Baljinder Sekhon, and Paul Reller (composition). He also holds a BM in Music Education from Slippery Rock University in Pennsylvania where his studies included percussion, composition, jazz/improvisation, and pedagogy. Outside of his formal studies, Sean has studied percussion, composition, repertoire, and performance practice with Stuart Saunders Smith and Sylvia Smith, repertoire with Christian Wolff, composition with Robert Morris, and vibraphone with Berndt Thurner (Vienna).
-----------
Need directions to Laidlaw? Just go to Google Maps at www.maps.google.com and enter "USA Laidlaw Performing Arts Center." We're actually on the corner of University Blvd. and USA Drive South.
Musical Arts Series Season Pass Holders may now reserve their place at concerts if they contact events coordinator Keith Bohnet by 5:00 p.m. the day previous to the event! Call (251) 460-7116 or email kbohnet@southalabama.edu. Please mention the amount of seats needed AND be sure you are planning on being in place at least 20 minutes in advance of the concert! (Pass Holders only please! Held seats not claimed within 20 minutes of the performance may be offered to other concert attendees.)
For information on how to join the Musical Arts Society, visit our website at www.southalabama.edu/music and click on "events and programs" to see everything you need to know about the Musical Arts Concert Series and USA's Musical Arts Society.
---
---