Tomkiewicz and Patterson - Guest Artist Double Reed Day Recital March 25 at 3:00
---
Posted on March 17, 2017 by Keith Bohnet
Keith Bohnet
---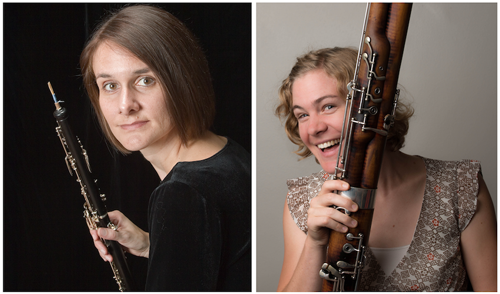 Dr. Susan Tomkiewicz and Dr. Stephanie Patterson
---
Dr. Susan Tomkiewicz and Dr. Stephanie Patterson, double reed faculty from the Schwob School of Music at Columbus State University, will present a Guest Artist Double Reed Recital as a part of USA Double Reed Day 2017. The concert will take place in the Laidlaw Performing Arts Center Recital Hall on Saturday, March 25 at 3:00 p.m. and will be the culmination of the day's event that will feature performances, classes and seminars on the specifics of oboe and bassoon studies.

Tickets for this Department of Music event will be sold at the door only. Admission is $8 general and $5 for USA faculty & staff, USA students, youths under 18 and all senior citizens (cash or check only). Persons needing more information about this event or in need of special accommodation may call (251) 460-7116 or (251) 460-6136.

For a complete Double Reed Day schedule of events and details regarding registration, fees, and events, please visit www.southalabama.edu/colleges/music/doublereedday.html or contact Dr. Rebecca Mindock via email: mindock@southalabama.edu

About Dr. Susan Tomkiewicz
Dr. Susan Hatch Tomkiewicz is the Associate Professor of Oboe at the Schwob School of Music at Columbus State University and the Director of RiverPark Honors. Previous academic appointments include the University of Nebraska at Omaha, Bowling Green State University, Luther College and Texas Lutheran University.
An active proponent of new music, Susan has commissioned, premiered and recorded many new solo, electronic and chamber works for oboe and English horn by such composers as Brian Cherney, Brooke Joyce, Bruce Pennycook, Jeremy Baguyos, Matt McCabe, John Lato, Nancy Galbraith and Fred Cohen.
As a performing artist, Susan has been a recitalist in the United States and Japan at the International Double Reed Society, SEAMUS, Electronic Music Midwest, the College Music Society and the 6th, 7th, 8th, 9th & 10th Annual English Horn Masterclasses with Carolyn Hove. She has also performed with a number of ensembles and productions across the country including the Columbus Symphony, Springer Opera House, Omaha Symphony, Wicked, the Austin Symphony, the Maine Chamber Ensemble and the Bangor Symphony.
Susan has participated in numerous recording projects including Bells for Stokowski, Fandango, the PBS Texas Parks & Wildlife theme show music and, most recently, Rebecca Henderson's latest CD entitled 'Gobo'. She holds degrees from the University of Texas at Austin, where she graduated summa cum laude, the University of New Mexico and the University of New Hampshire. Her primary teachers include Rebecca Henderson, Kevin Vigneau and Margaret Herlehy.
Susan is thankful to have been the director and host of the English Horn Masterclasses with Carolyn Hove for five wonderful years and was a proud host of the 2016 Conference of the International Double Reed Society in Columbus, Georgia on the RiverPark Campus of Columbus State University in June of 2016.

About Dr. Stephanie Patterson
California native Dr. Stephanie Willow Patterson is a bassoonist with a passion for collaboration, outreach, and contemporary music. Beginning in Fall, 2016, she will be the Assistant Professor of Bassoon at the Schwob School of Music at Columbus State University. As a member of the Enid Trio, she performs across the country, reaching out to young musicians to share their love of innovative music and education. She has previously taught at Wichita State University.
Stephanie performs and teaches at the Festival Internacional de Música Colonial Brasileira e Música Antiga in Juiz de Fora, Brazil, and is a founding member of the Woods, Winds, and Willows Chamber Orchestra. She has been invited to perform at the Fairbanks New Music Festival, the Sonorities Festival in Belfast, Ireland, the IHearIC music series, and the Meg Quigley Vivaldi Bassoon Symposium. She has been a member of the Wichita Symphony and Wichita Grand Opera, the Fairbanks Symphony and Arctic Chamber Orchestra, and has performed with the Tulsa Symphony Orchestra, Waterloo/Cedar Falls Symphony, Orchestra Iowa, and the Quad-Cities Symphony. She has also performed with the Iowa City Jazz Vespers group and the Wichita-based free-jazz Bodo ensemble.
Her primary bassoon gurus have been Professors George Sakakeeny, Nicolasa Kuster, Scott Oakes and Benjamin Coelho though she has also dabbled in improvisation under the direction of jazz bassoonist Paul Hansen, and studied in St. Petersburg, Russia with Igor Gerasimov. She holds degrees in music and Russian language from the Oberlin Conservatory and College, Wichita State University, and a Doctorate in Musical Arts from the University of Iowa. Her dissertation project, An Introduction to Contemporary Music for Bassoon and 64 Etudes is available through Trevco Music Publishing. Stephanie has attended the Lucerne Festival Academy, working under conductors Peter Eötvös and Pierre Boulez, and the Aspen Music Festival under the batons of Marin Alsop and David Zinman.
Stephanie frequently collaborates with composers to create new works for bassoon. Recently she has worked with composers Xinyan Li, Durwynne Hseih, Lewis Nielson (Oberlin), Brian Penkrot (Northern Illinois University) and Aleks Sternfeld-Dunn (Wichita State University). She organized the first season of the Wichita State University New Music Concert Series in 2008-2009. In 2013 she organized and performed in the Iowa Celebration of Women Composers, a concert featuring new works by women including brand-new pieces by Katherine Murdock and Stephanie Pieczynski.
Crossing genres with performances in costume, she has performed Michael Daugherty's Dead Elvis at the Wichita Knob Festival at the FischHaus art gallery, and In Freundschaft by Stockhausen for bassoon-playing teddy bear. She has performed in Carnegie Hall, on the busy streets of Moscow, on the pedestrian malls of Madrid, in the gilded Kappella hall in St. Petersburg, inside a medieval church in Prague, for low-income afterschool programs in Alaska, with Pierre Boulez at the Kunstmuseum Luzern, atop a gallows at the Massachusetts Museum of Contemporary Art, in a room with speakers on all sides and below the audience, and in the mountains of North Carolina.
--------------------
Need directions to Laidlaw? Just go to Google Maps at www.maps.google.com and enter "USA Laidlaw Performing Arts Center." We're actually on the corner of University Blvd. and USA Drive South.
Musical Arts Series Season Pass Holders may now reserve their place at concerts if they contact events coordinator Keith Bohnet by 5:00 p.m. the day previous to the event! Call (251) 460-7116 or email kbohnet@southalabama.edu. Please mention the amount of seats needed AND be sure you are planning on being in place at least 20 minutes in advance of the concert! (Pass Holders only please! Held seats not claimed within 20 minutes of the performance may be offered to other concert attendees.)
For information on how to join the Musical Arts Society, visit our website at www.southalabama.edu/music and click on "events and programs" to see everything you need to know about the Musical Arts Concert Series and USA's Musical Arts Society.
---
---