USA Piano Camp coming July 1-15 at Laidlaw!!
---
Posted on May 16, 2017 by Keith Bohnet
Keith Bohnet
---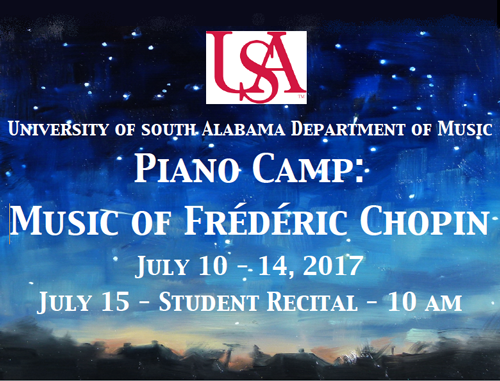 USA Piano Camp 2017
---
We are excited to offer this workshop to pianists age 11 through adult. The camp will focus on the music of Frédéric Chopin. Daily classes will focus on technique, theory, form and literature. Students will take mini-lessons and master classes with nationally renowned experts and USA piano faculty.
Students should bring 1 or 2 piano pieces to study during the workshop. Pieces by Chopin are recommended but not required.
Registered students may perform at 10:00 a.m. on Saturday, July 15th, at the Student Recital in the Laidlaw Recital Hall. Admission is free to the public.
Recitals by Piano Camp Faculty featuring the works of Chopin will be given Monday through Thursday from 3:00 p.m. to 4:15 p.m. and are included in the workshop fee. General admission tickets for faculty recitals will be sold daily at the door of the Recital Hall in the Laidlaw Performing Arts Center for $5.00.

The daily schedule includes:
Classes on music theory and reading/analyzing music
Classes on Romantic music
Special topics presentations by piano camp faculty
Daily private mini-lesson with faculty
Daily master class with faculty
Practice time

Go to www.southalabama.edu/colleges/music/pianocamp for more information!!
---
---