USA Bands Special Concert at the Mobile Saenger April 24!!
---
Posted on April 22, 2018 by Keith Bohnet
Keith Bohnet
---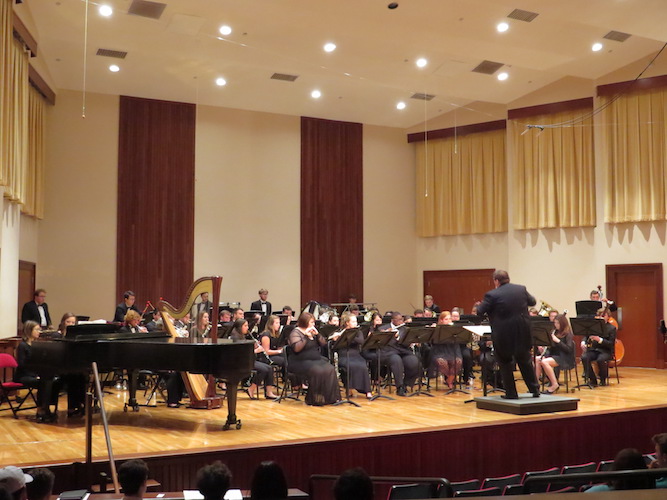 USA Wind Ensemble
---
Join the University of South Alabama Wind Ensemble and Symphony Band as they perform a special Spring Concert in the beautiful Saenger Theatre in downtown Mobile! The concert takes place at 7:30 p.m. on Tuesday, April 24, with a reception to follow in the Saenger Theatre 1927 Room (light hors d'oeuvres will be served).
The concert will be a celebration of the best literature for the wind band with Dr. Jason Rinehart conducting the USA Symphony Band and Dr. William Petersen conducting the USA Wind Ensemble. We also honor the retirement of Dr. Greg Gruner, Chair of the USA Department of Music, as he conducts excerpts from the Finale of Mahler's "Symphony No.3."
Featured soloists include Dr. Luis Rivera and Dr. Justin Alexander, percussion, on the world premiere of composer Adam Silverman's "The Rule of Five: Double Concerto for Two Percussionists and Wind Ensemble." The Wind Ensemble's portion of the concert opens with George Gershwin's iconic "Cuban Overture" and also features Dr. Jason Rinehart conducting "Transcendent Journey" by Rossano Galante. The Wind Ensemble will close the concert with Adam Gorb's rollicking work "Awayday."
The Symphony Band will begin the evening with Brian Balmages' "Renaissance Reimagined" and also will perform Pierre La Plante's cornerstone work for band, "American Riversongs." USA trombone faculty member Dr. Arie VandeWaa will be the Symphony Band's featured soloist on Tyler S. Grant's new work, "Paceline."
Again, the concert begins at 7:30 p.m. and is FREE and open to the public. And everyone is invited to the free reception following in the Saenger Theatre 1927 Room for light hors d'oeuvres.
The Mobile Saenger Theatre is located at 6 S Joachim St., Mobile, AL 36602. You can find a map of this location easily on Google Maps by entering "Saenger Theatre Mobile" in the search box. Parking can be found in the many city lots around the downtown area as well as regular street parking. Concert-goers are encouraged to arrive early to allow for extra time to park and walk to the concert.
Need more information? Go to our website, www.southalabama.edu/music or call us at (251) 460-6136 or (251) 460-7116.
---
---