Gulf Coast Trombone Choir Spring Concert at Laidlaw May 27
---
Posted on May 20, 2018 by Keith Bohnet
Keith Bohnet
---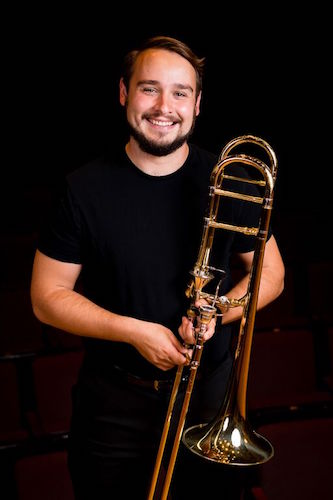 Gulf Coast Trombones at Laidlaw
---
The Gulf Coast Trombone Choir is proud to present its Spring Concert in the Laidlaw Performing Arts Center on the University of South Alabama campus. The concert is Sunday, May 27 and begins at 7:00 p.m., directed by trombonist Arie VandeWaa. The ensemble will perform classical works in the first half of the concert, while then moving to music in a jazz vein for the second half of the program.
This concert is free and open to the public. Questions about the concert and accommodation should be made directly to the Gulf Coast Trombone Choir at (251) 599-4792.
(USA Department of Music is not the presenter of this concert and does not have ensemble or program information.)
Need directions to Laidlaw? Just go to Google Maps at www.maps.google.com and enter "USA Laidlaw Performing Arts Center." We're actually on the corner of University Blvd. and USA Drive South.
---
---