Spring 2019 Instrumental Ensemble Audition Information
---
Posted on December 26, 2018 by Dr. William Petersen
Dr. William Petersen
---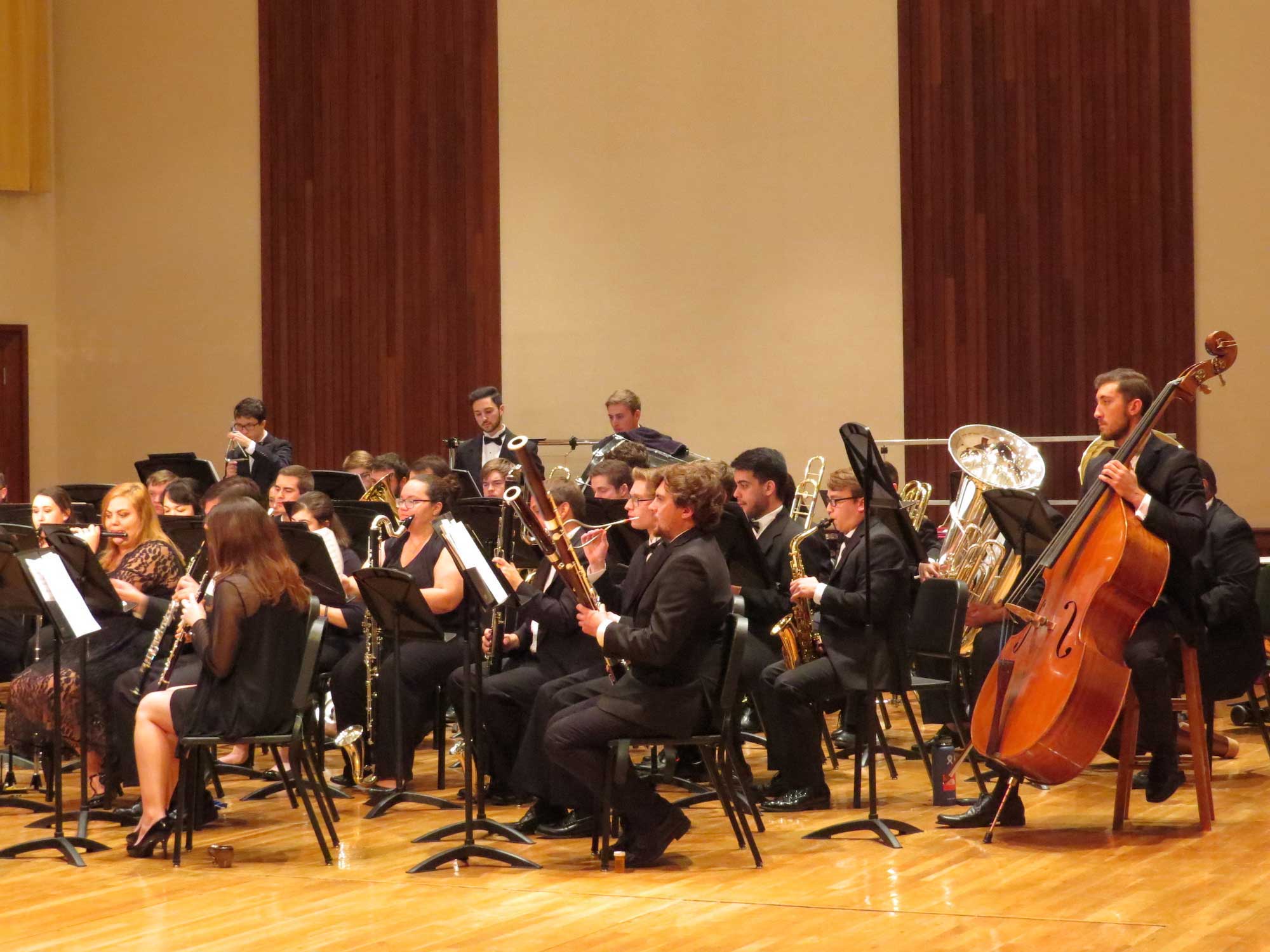 USA Wind Ensemble
---
Auditions for Concert Instrumental Ensembles for Spring 2019 will occur at the Laidlaw Performing Arts Center, Room 1072 on Sunday, January 6, 2019 and Monday, January 7, 2019. We encourage all instrumentalists to sign up and audition for placement in one of our two auditioned concert bands.
The USA Wind Ensemble rehearses MWF from 11:15AM-12:05PM in the Laidlaw Rehearsal Room. It is conducted by Dr. Will Petersen. The USA Symphony Band is conducted by Dr. Jason Rinehart, and rehearses TTH from 11:00AM-12:15PM.
For more information contact:
Dr. Will Petersen: wpetersen@southalabama.edu
Dr. Jason Rinehart: rinehart@southalabama.edu
Mr. Matthew Greenwood (University Band): mgreenwood@southalabama.edu
Auditions are open to both non-majors and majors/minors! We encourage everyone to audition!
Audition Sign-Ups
Auditions for Spring 2019 Concert Instrumental Ensembles will be on Sunday, January 6th, and Monday, January 7th. All auditions are held in the Laidlaw Performing Arts Center.
Spring 2019 Concert Instrumental Ensembles Audition Sign-Ups
Note on Audition Excerpts
All music majors and minors should prepare both the Symphony Band and Wind Ensemble excerpts for your audition.
Music majors and minors must have ensemble times for Symphony Band and Wind Ensemble open. You cannot specify what ensemble you would prefer to play in – you are placed in your major ensemble based off of your audition.
All students planning on audition for Orchestra as well as Wind Ensemble/Symphony Band should prepare ALL excerpts.
Audition PDFs
University Band (Spring Only)
Non-majors who are interested in a one-night a week concert band experience are encouraged to sign up for University Band (MUO137). The University Band meets on Monday evenings from 6:30-8:00PM. It is conducted by Mr. Matthew Greenwood and focuses on standard literature of the concert band. This ensemble is also open for anyone in the university community, including faculty and staff, by simply registering for the course (at either the .5 or 1 hour level). Additionally, there is no audition requirement for participation, however you must have participated in your high school band program for at least 2 years or have equivalent proficiency.
More information on the University Band can be obtained by calling the Department of Music at (251) 460-6136 or email Mr. Greenwood at mgreenwood@southalabama.edu. A short seating placement audition will occur at the second class meeting.
You can find out more about USA's other performance opportunities by visiting the Department of Music website or contacting us at (251) 460-6136.
---
---