USA Opera presents "The Elixir of Love" April 12 & 14 at Laidlaw
---
Posted on April 1, 2019 by Keith Bohnet
Keith Bohnet
---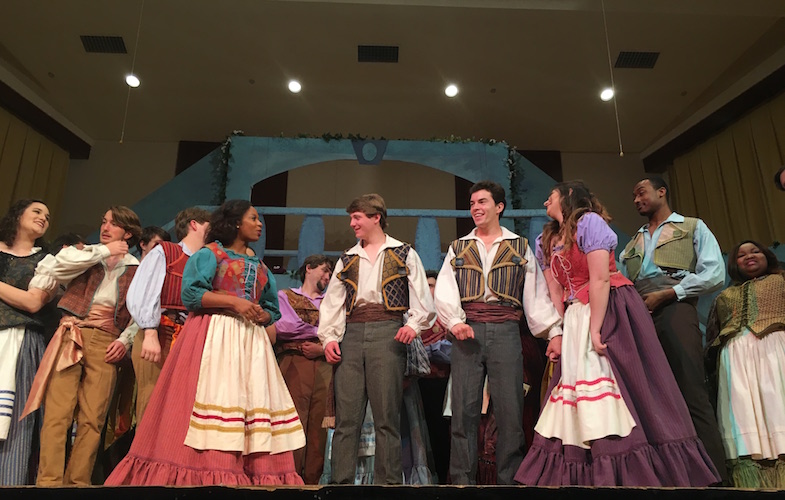 USA Opera Theatre
---
Girl is rich, she's beautiful, she's smart, she's all that. Boy is poor, he's not too bright, and he's hopelessly in love with her. Enter a pompous sergeant who immediately proposes to the girl, and a snake oil salesman who promises the girl's love in one day if the boy buys and takes his special elixir.
What could possibly go right?
USA Opera presents Donizetti's classic bel canto opera, L'Elisir d'Amore (The Elixir of Love) on Friday, April 12 at 7:30 p.m. and Sunday, April 14 at 3:00 p.m. on the stage of Laidlaw Performing Arts Center Recital Hall. The production is under the direction of Thomas L. Rowell and conducted by Jason F. Rinehart.
(No MAS passes for this event. See below for special ticket information.)
NOTE: Advance tickets for "The Elixir of Love" performances may be purchased in person at the Music Department Offices April 8-11 from 1:00-6:00 p.m. Unsold tickets will be sold at the door to the performances as available beginning one hour before each show. Tickets are $15 general admission and $10 for USA Faculty/Staff/USA Students/under 18 students and senior citizens (cash or check only -- USA students must show a valid USA ID). MAS pass holders must purchase a separate ticket for this event.
Persons needing more information about this event or in need of special accommodation may call 251-460-7116 or 251-460-6136.
Need directions to Laidlaw? Just go to Google Maps at www.google.com/maps and enter "USA Laidlaw Performing Arts Center." We're actually on the corner of University Blvd. and USA Drive South.
For information on how to join the Musical Arts Society, visit our website at www.southalabama.edu/music and click on "events and programs" to see everything you need to know about the Musical Arts Concert Series and USA's Musical Arts Society.
---
---