Senior Percussionist Kevin Newsome Completes Recital May 3
---
Posted on May 22, 2020 by Keith Bohnet
Keith Bohnet
---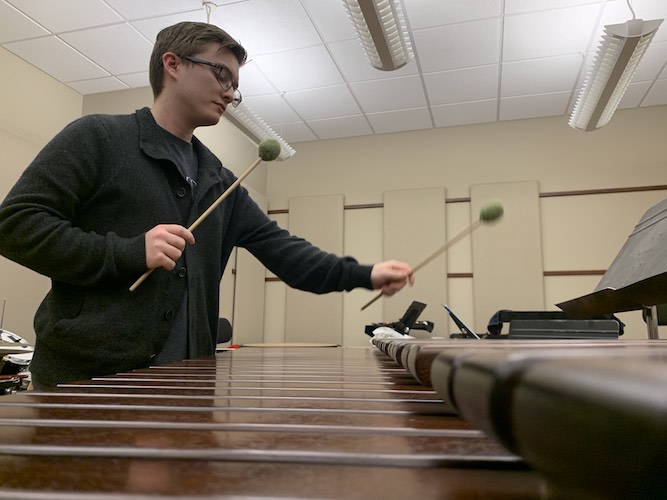 Percussionist Kevin Newsome
---
USA student percussionist Kevin Newsome successfully completed his Senior Percussion Recital on Sunday, May 3, 2020 at 5:30 p.m. in the Laidlaw Performing Arts Center Recital Hall. Assisting in this performance with Newsome was USA faculty pianist Doreen Lee. The concert was presented in front of an empty house due to coronavirus protections, and all musicians performing in this concert maintained proper social distancing per university and local guidelines.

This recital was the culmination of Newsome's time as a student at South Alabama. As an undergraduate performer, he was a key member of several elite ensembles, including the USA Wind Ensemble, USA Symphony Band and several iterations of the USA Percussion Ensemble.

Kevin Newsome's final senior recital was presented in partial fulfillment of the degree Bachelor of Music with Concentration in Performance – Instrumental. He is a student of Luis Rivera. His recital program appears below.
UNIVERSITY OF SOUTH ALABAMA
DEPARTMENT OF MUSIC
_______________________________

SENIOR PERCUSSION RECITAL
Kevin Newsome
Doreen Lee, piano
_______________________________

Concerto for Marimba and Strings (2005, rev. 2015) Emmanuel Séjourné
I. Avec Force (b. 1961)
III. Rythmique, Énergique

Douze Études pour Caisse-Claire Jacques Delécluse
No. 9 (1933-2015)

Suite No. 5 in C minor, BWV 1011 (1717-1723) Johann Sebastian Bach
(for unaccompanied violoncello) (1685-1750)
I. Prelude

Eight Pieces for Four Timpani (1966) Elliott Carter
I. Saëta (1908-2012)

Spain Chick Corea
(b. 1941)

The Anvil Chorus David Lang
(b. 1957)

This recital is presented as a part of the requirements for the degree
Bachelor of Music with Concentration in Performance – Instrumental.
Kevin Newsome is a student of Luis Rivera.
_______________________________

The Fifty-first Concert of Academic Year 2019-2020
RECITAL HALL
LAIDLAW PERFORMING ARTS CENTER
Sunday, May 3, 2020
5:30 p.m.
---
---