Senior Percussionist Trevor Perez Completes Recital May 4
---
Posted on May 26, 2020 by Keith Bohnet
Keith Bohnet
---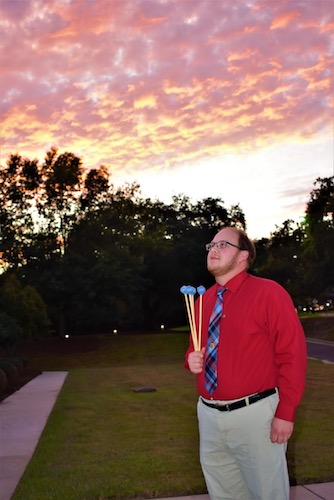 Percussionist Trevor Perez
---
USA student percussionist Trevor Perez successfully completed his Senior Percussion Recital on Monday, May 4, 2020 at 5:00 p.m. in the Laidlaw Performing Arts Center Recital Hall. Music including works of Cage, Carter, Xenakis and Bach were played by Perez on a wide array of percussion instruments. The concert was presented in front of an empty house due to coronavirus protections, and all concerned were maintaining proper social distancing per university and local guidelines.

This recital was the culmination of Perez' time as a student at South Alabama. As an undergraduate performer, he was a key member of several elite ensembles, including the USA Wind Ensemble, USA Symphony Band and several iterations of the USA Percussion Ensemble.

Trevor Perez' final senior recital was presented in partial fulfillment of the degree Bachelor of Music with Concentration in Performance – Instrumental. Perez is a student of Luis Rivera.
The concert program included the following pieces --
Side by Side (1989) by Michio Kitazume
The Big Audition (2015) by Casey Cangelosi
Suite in E major for Lute (1737) by Johann Sebastian Bach
V. "Improvisation" from Eight Pieces for Four Timpani (1966) by Elliot Carter
Child of Tree (1975) by John Cage
Rebonds, "a" (1987-89) by Iannis Xenaxis
---
---