Victoria French Completes Requirements for Flute Recital Spring 2020
---
Posted on June 9, 2020 by Keith Bohnet
Keith Bohnet
---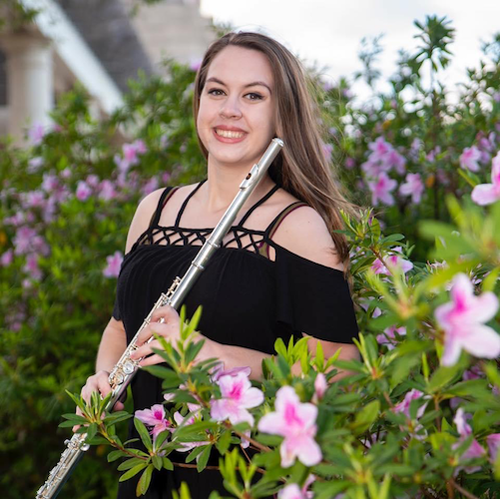 USA flutist Victoria French
---
USA student flutist Victoria French successfully completed the requirements for her Junior Flute Recital originally scheduled for Sunday, March 22, 2020 at 3:00 p.m. in the Laidlaw Performing Arts Center Recital Hall. Had the global pandemic not caused the cancelation of the performance, French would have been assisted on the program by pianist Robert Holm, guitarist Scott Cox, and Andra Bohnet playing the bodhrán.

The preparations for this recital provided the culminating achievement of French's time as a junior-year flutist at South Alabama. As an undergraduate performer, she was a key member of several elite ensembles, including the USA Wind Ensemble, the USA Flute Choir, and the USA Celtic Crúe.

Victoria French's junior recital requirements were completed in partial fulfillment of the degree Bachelor of Music with Concentration in Performance – Instrumental. She is a student of Andra Bohnet.
Her program was to include the following pieces --

Fantasie No. 12 in G minor by Georg Philipp Telemann
Sonata for Flute and Piano by Francis Poulenc
Stan Chapman's/Lannigan's Ball/The Old Favorite (jigs) by Jerry Holland and traditional sources
Regrets and Resolutions by Gary Schocker
---
---