Clark Peterson Junior Piano Recital (at Laidlaw via Live Stream)
---
Posted on August 7, 2020 by Keith Bohnet
Keith Bohnet
---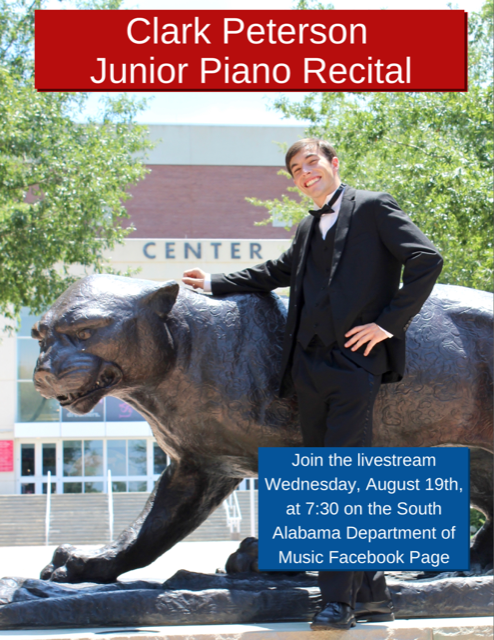 Pianist Clark Peterson
---
Clark Peterson will present a Junior Piano Recital in the Laidlaw Performing Arts Center Recital Hall on Wednesday, August 19, 2020 at 7:30 p.m. This recital is presented as a part of the requirements for the degree Bachelor of Music with Concentration in Performance - Instrumental.
Clark Peterson is a student of Robert Holm.
This concert is closed to the public and will be accessible only as a live stream event. We trust you will be able to be with us for the concert by going to our linked live stream site - USA Music Department Concert Live Streams On this department page you'll also be invited to open a virtual program for the concert and in some cases program notes as well. Join us!
Here is the full Concert Live Streams link, just in case! --
https://www.southalabama.edu/colleges/music/livestream.html
If you have questions about live stream access to our concerts or have any other concerns about our Music Department events, please contact Events Coordinator Keith Bohnet at kbohnet@southalabama.edu. You may also call 251-460-7116 for more information.
---
---