Kenneth Saxon, Guest Artist Concert - "Cold War Recital" February 23
---
Posted on February 17, 2021 by Keith Bohnet
Keith Bohnet
---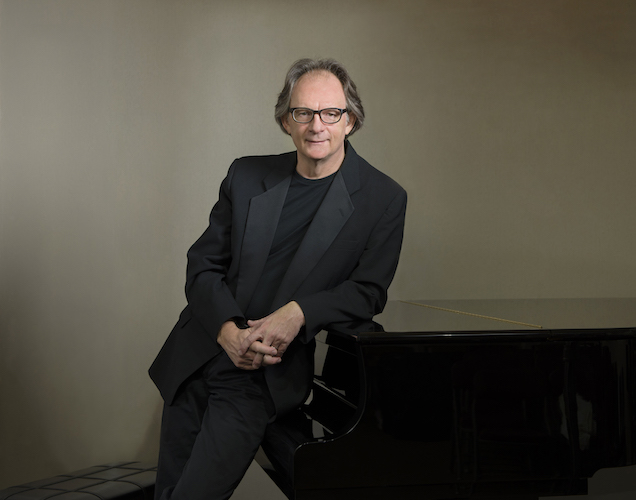 Kenneth Saxon, Guest Artist Pianist
---
Kenneth Saxon, pianist, will perform a Guest Artist Concert entitled "Cold War Recital" at 7:30 p.m. on Tuesday, February 23 via the USA Department of Music Live Stream Events webpage. The concert includes music of Shostakovich, Mozart, and Rachmaninoff, and a newly commissioned work by composer kawai shiu. The entire event is a montage of music, poetry and images used to discern individual voices in the era of superpowers.
This Musical Arts Series concert is closed to the public and will be accessible only as a live stream event via YouTube Premieres. We trust you will be able to be with us for the concert by going to our linked live stream site. On our special department page you'll also be invited to open a virtual program for the concert and in some cases program notes as well. Join us!
Here is the full Concert Live Streams link where you will find this concert --
https://www.southalabama.edu/colleges/music/livestream.html
If you have questions about live stream access to our concerts or have any other concerns about our Music Department events, please contact Events Coordinator Keith Bohnet at kbohnet@southalabama.edu. You may also call 251-460-7116 for more information.
For information on how to join the Musical Arts Society, visit our website at www.southalabama.edu/music and click on "events and programs" to see everything you need to know about the Musical Arts Concert Series and USA's Musical Arts Society.
-----------------------------------
About Kenneth Saxon
Pianist Kenneth Saxon has performed as a soloist and collaborative pianist on three continents, including appearances at the Esplanade in Singapore, the Teatro di Donnafugato in Ibla, Sicily, and La Teatro de la Reforma in Matamoros, Mexico. Known for his wide-ranging repertoire, Saxon has premiered works by Gary Smoke and Maxwell Dulaney and regularly explores works by Schumann, Crumb, Bartok, and Granados. Saxon's recording of the Rachmaninoff Preludes, Op. 32 was praised for the "fineness of touch . . . and excellent handling of polyphony" by William Kreindler for MusicWeb-International.
Saxon uses color, touch, and timing to create distinct sound worlds for each composer. His distinctive programming helps audiences make unexpected connections between the music and their own lives. An entertaining and engaging presence, Saxon often introduces works with a brief story about the pieces and his own experiences with them.
Saxon premiered kawai shiu's solo work la negacion de simbolos and Bird Whistle, a work inspired by and conducted by composer Harrison Birtwistle. Saxon recorded shiu's "Winter Tide" on the album eXchange:China and "clear shade" on music of kawai shiu. In addition, Saxon created the contemporary ensemble Sin Fronteras (without boundaries) and has frequently championed the work of young composers by performing their works.
Kenneth is a Professor of Music at the University of Texas Rio Grande Valley. He has published articles on sight reading in the Piano Pedagogy Journal, American Music Teacher and Pianist magazine. His book Steps to Success has helped hundreds of musicians improve their sight reading fluency. Saxon regularly offers master classes and workshops along with his performances.
---
---