USA Bands Spring Concert at the Saenger April 29 at 7:00
---
Posted on April 27, 2021 by Keith Bohnet
Keith Bohnet
---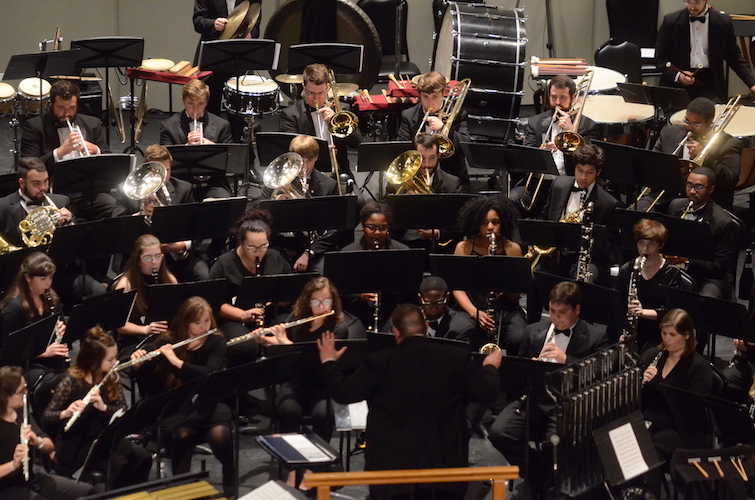 USA Wind Ensemble
---
The USA Wind Ensemble, conducted by Dr. Will Petersen and the USA Symphony Band, conducted by Dr. Jason Rinehart, will present their first live full band performance in over a year at the Saenger Theater on Thursday, April 29 in front of a limited and invited audience only. The concert begins at 7:00 p.m. and will be live streamed on the Department of Music YouTube page.
The USA Symphony Band will feature the "Prelude, Op. 34, No. 14 in Eb Minor" by Dmitri Shostakovich, and Andrew Boysen's "Symphony No. 4". Following intermission, the USA Wind Ensemble will present Kozhevnikov's boisterous Symphony No. 3" Slavanskaya". Dr. Jason Rinehart will guest conduct the Wind Ensemble on Percy Grainger's "Colonial Song" and Assistant Director of Bands Matt Greenwood will take the baton to lead John Philip Sousa's iconic march "Hands Across the Sea", winner of the 2021 United States Marine Band "March Madness" Tournament! The program closes with "Music for Prague 1968" by Karel Husa, which received the Pulitzer Prize in Music in 1969 and is regarded as one of the most significant compositions of its generation.
Except for a limited invited audience, this Musical Arts Series concert is closed to the public and will be accessible only as a live stream event. We trust you will be able to be with us for the concert by going to our linked live stream site. On this department page you'll also be invited to open a virtual program for the concert and possibly program notes as well.
Here is the full Concert Live Streams link --
https://www.southalabama.edu/colleges/music/livestream.html
And you may access the concert directly on the "USA Department of Music YouTube Channel" via this link: https://www.youtube.com/channel/UCc84IDo_pqU_iAahr-f3ovg
If you have questions about live stream access to our concerts or have any other concerns about our Music Department events, please contact Events Coordinator Keith Bohnet at kbohnet@southalabama.edu. You may also call 251-460-7116 for more information.
---
---