Robert Holm - Piano Camp Faculty Recital July 15 (1:00)
---
Posted on July 13, 2021 by Keith Bohnet
Keith Bohnet
---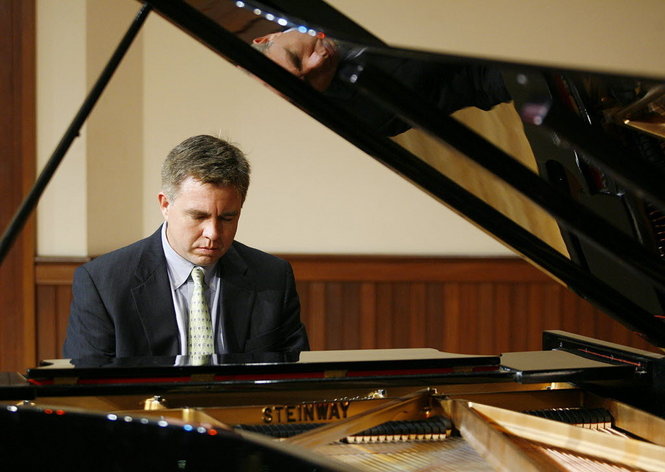 Dr. Robert Holm
---
Dr. Robert Holm will perform in a USA Piano Camp Faculty Recital on Thursday, July 15 at 1:00 p.m. in the Laidlaw Performing Arts Center Recital Hall. The emphasis of this year's piano camp is the music of Ludwig van Beethoven, specifically his many great piano sonatas. Dr. Holm's program will feature four piano sonatas by Beethoven: op. 7 in E-flat major, op. 27, no. 1 in E-flat major, op. 49, no. 1 in G minor, and op. 106 in B-flat major.
This Department of Music concert is closed to the public and will be accessible only as a live stream event. We trust you will be able to be with us for the concert by going to our linked live stream website. On this department page you'll also be invited to open a virtual program for the concert.
Here is the full Concert Live Streams link --
https://www.southalabama.edu/colleges/music/livestream.html
If you have questions about live stream access to our concerts or have any other concerns about our Music Department events, please contact Events Coordinator Keith Bohnet at kbohnet@southalabama.edu. You may also call 251-460-7116 for more information.
More information about the entire Piano Camp may be obtained through the USA Piano Camp web page -- https://www.southalabama.edu/colleges/music/pianocamp.html
About the performer
Robert Holm, a Steinway Artist since 2010, is Professor of Music and head of the piano division at the University of South Alabama, principal pianist for the Mobile Symphony Orchestra and pianist at Shiloh Baptist Church in Saraland. Prior to his appointment at USA in 1997, Holm received a B.A. in Piano at Pt. Loma Nazarene University in San Diego followed by studies at the University of Illinois School of Music with Professor Kenneth Drake, where, in 1999, he earned a D.M.A. in Piano Performance and Literature. Since 2011, he has directed the University of South Alabama Summer Piano Camp. Holm was a finalist or prize winner at the Liszt Competition in Italy, at the Bartók-Kabalevsky-Prokofiev Competition in Virginia, and at the International Beethoven Sonata Competition in Tennessee. In 1988, Holm was one of 88 pianists who performed with Chubby Checker and the Rockettes at the Superbowl XXII halftime show in San Diego, California.
Holm played Saint-Saëns Carnival of the Animals with the Mobile Symphony Orchestra in six concerts in January 2021 and has appeared as soloist performing concerti by Mozart, Beethoven, Chopin, Liszt, Grieg, Rachmaninoff and Gershwin with various ensembles including the Johnson City Symphony Orchestra, Mobile Symphony Orchestra, Mobile Youth Symphony, Mobile Symphonic Pops and most recently with the Red Mountain Orchestra in Alabaster. He has performed as soloist and collaborative artist at Steinway Hall in London, at Carnegie (Weill) Hall, at Shaoxing University (China), at Lakehead University (Canada), and in three venues in São Paulo State, Brazil in June 2019.
In 2006, Holm, violinist Enen Yu and cellist Guo-Sheng Huang formed the Archduke Piano Trio, which has performed over 40 standard chamber works throughout Alabama and Mississippi. In 2016, Holm visited China twice giving recitals and master classes in Shaoxing, Hangzhou and Dalian. In his 2019, visit to Brazil, Holm directed master classes at Tatuí Conservatory and at the University of Campinas. At the University of South Alabama, Holm has given 54 solo recitals including sonata cycles by Mozart and Beethoven and over 260 collaborative recitals with faculty and guest artists.
---
---