Live concerts return to Laidlaw August 19!
---
Posted on July 26, 2021 by Keith Bohnet
Keith Bohnet
---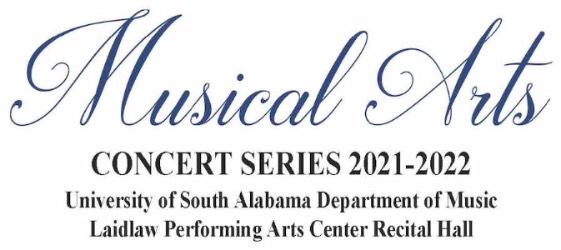 USA Musical Arts Concert Series 2021-2022
---
Hello and happy Summer of 2021. We trust that you are well; all of us here at Laidlaw are looking forward to having everyone back in the recital hall after over a year of live-streamed concerts and no audiences. We have missed you!

On that note, we are excited to inform you that live USA Department of Music concerts are returning to the Laidlaw Performing Arts Center beginning Thursday, August 19, 2021 at 7:30 p.m. Oboist Dr. Rebecca Mindock and pianist Dr. Doreen Lee will be performing on this first concert of the 2021-2022 USA Musical Arts Concert Series. Yes, we're back, and we're hoping everyone else is ready to come back to live concerts as well!

We have a Musical Arts Series Concert Calendar linked and ready to go for 2021-2022. We would have printed out a fancy brochure or calendar with the concert dates, but as you might imagine, we've been subject to continued uncertainty and any number of changes over the past few weeks! Thanks in advance for your patience as we in the department quickly pivot to what will hopefully be a full and "normal" season.

Also linked to this announcement is our invitation form for you to join the USA Musical Arts Society, along with information on how to get season passes for the Musical Arts Concert Series and nearly all of our ticketed events. Please print the form out and send it to us soon.
You're welcome to contact events coordinator Keith Bohnet if you need items mailed directly to your residential address or email address. You can also just let him know you have concert and accommodation questions! 251-460-7116 or kbohnet@southalabama.edu
We look forward to seeing our audiences (including you!) once again at Laidlaw concerts. Please feel free to drop us a line if you have questions about the series or any of our music events. Our Music Department website and the Musical Arts Concert Series website links are ready to go for the latest in USA Music news and concert info.

www.southalabama.edu/music www.southalabama.edu/colleges/music/mas.html

See you at the concerts!
---
---