Results for Fall 2021 USA Wind Ensemble and USA Symphony Band Released
---
Posted on August 17, 2021 by Dr. Will Petersen
Dr. Will Petersen
---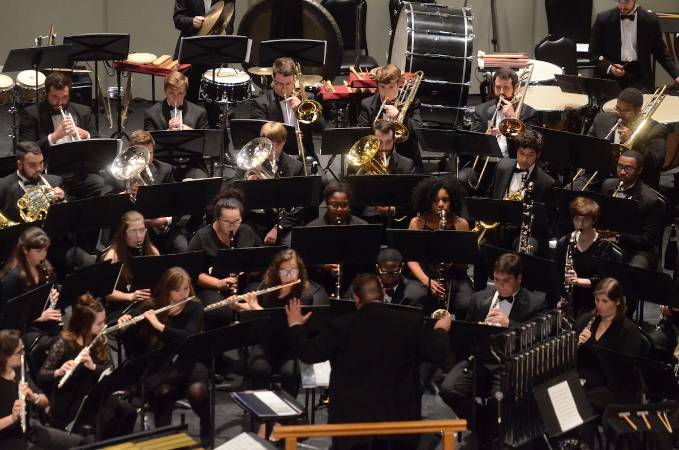 USA Wind Ensemble
---
Following two days of auditions, we are pleased to release the roster for the Fall 2021 USA Wind Ensemble, conducted by Dr. Will Petersen, and the Fall 2021 USA Symphony Band, conducted by Dr. Jason Rinehart. Many hours of preparation went into these auditions by our USA students and we would like to congratulate everyone who auditioned.
Rehearsals for the USA Wind Ensemble will begin this Friday, August 20th in the Laidlaw Performing Arts Center Rehearsal Hall (LPAC 1230) at 11:15AM. The USA Symphony Band will begin rehearsals on Tuesday, August 24th at 11:00AM in the LPAC Rehearsal Hall (LPAC 1230).
Students in Wind Ensemble (MUO 127/427/527) and Symphony Band (MUO 117/417/517) should double-check they are enrolled in the correct course:
Wind Ensemble - Undergraduate MUO 127/427 for either .5/1 credit or Graduate - MUO 527 for 1 credit
Symphony Band - Undergraduate MUO 117/417 for either .5/1 credit or Graduate - MUO 517 for 1 credit
Music will be handed out at the first rehearsal for both groups. Students needing to check out specialized instruments for the semester should email their ensemble director.
USA Wind Ensemble
Fall 2021
William H. Petersen, conductor
Flute
August Gallagher, principal
Jaishon Robinson
Marlo Daniels
Kadence Clemmons
Oboe
Michele Perry, principal
Cameron Swann
Bassoon
Gunnar Nelson, principal
Clarinet
Erika Horne, principal
Sarah Wilson
Reese Liggett
Cheyenne Higgs
Emily Castaneda
Bass Clarinet
Claire Cazalas, bass
Saxophone
Elizabeth Faust, principal, alto
Zander Westphal, alto
Greg Weatherly, tenor
Wyndal Mosley, baritone
Trumpet
Cameron Sansing, co-principal
Nathan Shadix, co-principal
Ethan Walsh
Jacobe Ramsey
Brett Fabacher
Austin Allen
Horn
Bethany Driggers (I), principal
Catherine Power (II)
Garrett Booth (III)
Mallori Garner (IV)
Trombone
Destin Hinkel, co-principal (Concert 1)
Destiny Miskel, co-principal (Concert 2)
Josh Walker
Nicholas Herboso, bass
Euphonium
Noah Barnett, principal
Jeremy Perryman
Trevor Sullivan
Tuba
Timothy Taldon, principal
Mark Sayler
Double Bass
Jeffrey Ward
Percussion
Sam Goecke, principal
Christian Calloway
Aayush Patel
Patrick Boyd
Nicholas Jensen
USA Symphony Band
Fall 2021
Jason F. Rinehart, conductor


Flute
Madison Kille, principal
Jai Parker
Randy Le
Kelton Shirley
Ginger Llivian
Oboe
Hayley Turner, principal
Crystal Garrard
Clarinet
Cheyenne Higgs, principal
Claire Cazalas
Patricia Langham
Leila Thomas
Ashlyn Tidwell
Erin Lockwood
Bass Clarinet
Erika Horne
Alto Sax
Tucker Hernandez, principal
Connor Daley
Blake Bodie
Tenor Sax
Greg Weatherly
Bari Sax
TBA
Trumpet
Jaleel Hughes, principal
Dakota Mellick
Tanner Madden
Jade Slater
Luke Wallace
Samuel Collins
Blake Daniel
James Gandy
Desmond Foster
Zach Nelson
Horn
Mason Ledbetter, principal
Trombone
Cooper Tate, principal
Ben Brunson
Juan Mata
Brianna Rawden
Victoria Hill
Bass Trombone
Harrison Colthup, principal
Euphonium
Taell McKellar
Tuba
Wesley Crosby, principal
Erin Dees
Joseph White
Matthew Blanco
Percussion
Cassidy Wallace, principal
Tyler Scott
Danielle Davis
Jemone Koger
J.P. Simpson
---
---