USA Bands Spring Concert at the Saenger Theatre April 26
---
Posted on April 25, 2022 by Keith Bohnet
Keith Bohnet
---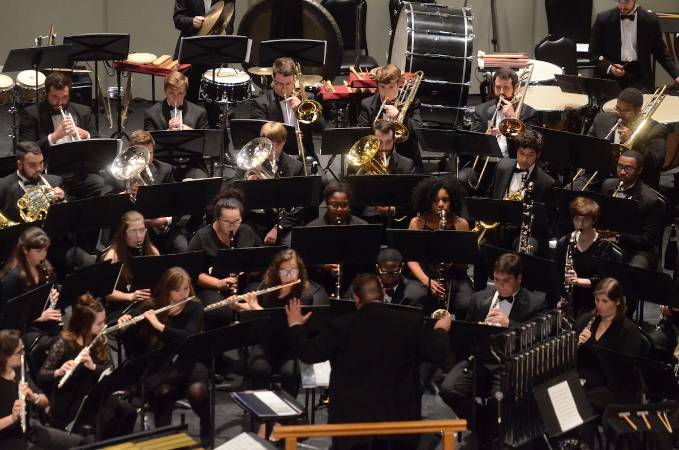 USA Wind Ensemble
---
Join the University of South Alabama Wind Ensemble and Symphony Band as they perform a special Spring Bands Concert in the beautiful Saenger Theatre in downtown Mobile. The concert takes place at 7:00 p.m. on Tuesday, April 26. The program will be a celebration of the best literature for the wind band, with Dr. William H. Petersen conducting both ensembles.
This concert is free and open to the public.
The Mobile Saenger Theatre is located at 6 S Joachim St., Mobile, AL 36602. You can find a map of this location easily on Google Maps by entering "Saenger Theatre Mobile" in the search box at maps.google.com Parking can be found in the many city lots around the downtown area as well as regular street parking. Concert-goers are encouraged to arrive early to allow for extra time to park and walk to the concert.
This concert will not appear on the department live stream.
Need more information? Go to our website, www.southalabama.edu/music or call us at 251-460-6136 or 251-460-7116. More info regarding the Mobile Saenger Theatre can be found at www.mobilesaenger.com
Covid-19 information -- While on campus and at USA concerts, students, employees, and visitors are required to follow all USA COVID-19 policies and practices. These policies can be found at https://www.southalabama.edu/coronavirus/. Be advised that policies may change during the semester, so check the University's Coronavirus Update page regularly. Furthermore, this event is subject to specific USA safety protocols in place at the time of the concert, including mask mandates, audience limitations, and even possible cancellation.
---
---