USA Music Announces 2022-2023 Musical Arts Concert Series
---
Posted on June 20, 2022 by Keith Bohnet
Keith Bohnet
---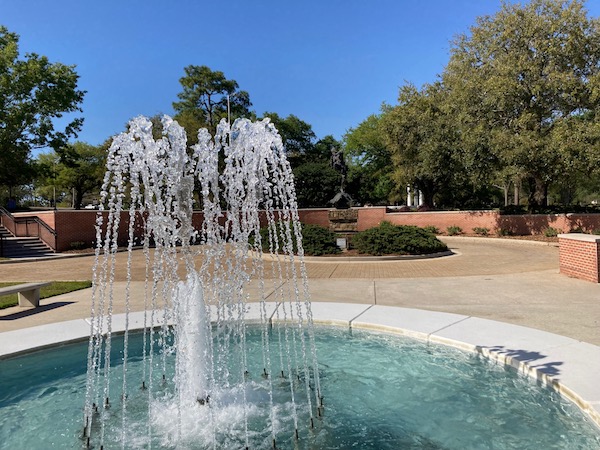 USA Laidlaw Performing Arts Center
---
USA Department of Music Announces 2022-2023 Musical Arts Concert Series
South Alabama's Department of Music is proud to announce the 2022-2023 Season of the USA Musical Arts Concert Series. Performances in the Laidlaw Performing Arts Center Recital Hall will begin September 6 at 7:30 p.m. with flutist Dr. Andra Bohnet and pianist Dr. Doreen Lee presenting a faculty flute recital. We invite you to join us for that event and the whole season of over 35 great concerts. The 2022-2023 series will include faculty recitals and student ensemble performances worthy of inclusion on anyone's "not-to-be-missed" list of events.
More specific information about the USA Musical Arts Series concert calendar and all performances can be found by going directly to our series webpage -- southalabama.edu/music/mas – or you can start with the Music Department homepage -- southalabama.edu/music. Need to print a copy of the season's events? The print version of the Musical Arts Series calendar can be downloaded at 2022-2023 Musical Arts Series Calendar.
No matter where you find us on the web, you will see that concerts at Laidlaw generally begin at 7:30 p.m. for evening performances and at 3:00 p.m. for scheduled Sunday events. Tickets for admission to all MAS concerts and other ticketed events are normally sold at the door only. Tickets are $8 each for general admission and $5 for USA faculty & staff, USA students, youths under 18 and all senior citizens. (For purchase of single concert tickets, we accept cash or checks only.) Parking around the Laidlaw building is free. Questions regarding special accommodation, live streaming or other considerations should be directed to the Events Coordinator at 251-460-7116 or the Music Department Staff at 251-460-6136. Questions also may be emailed to Keith Bohnet at kbohnet@southalabama.edu.
Season Passes and the USA Musical Arts Society
Concertgoers are invited to show their support of the University of South Alabama music program by purchasing a Season Pass and by joining the department's Musical Arts Society. As a subscriber, you will have the opportunity to buy either an Individual Season Pass or the Family Season Pass, allowing you the freedom to attend all the faculty recitals and student ensemble concerts listed on our schedule. Your pass gets you into nearly every ticketed performance! Season passes are offered to you at a discounted rate and provide the convenience of entering the venue without the hassle of cash or writing a check. Get your pass and join our growing audience!
Please download the season pass form and return it to us in the mail, or feel free to contact our department secretary, Peggy Doyle at 251-460-6136 or via email at pdoyle@southalabama.edu. If you leave a message, be certain to provide your name, mailing address and a phone number.
Additional Ticketed Concerts
Musical Arts Series pass holders may use their passes for admission to ALL Music Department ticketed concerts (with occasional exceptions). We add concerts to our schedule all the time, and your pass can be used for the Musical Arts Concert Series AND our other ticketed Music Department concerts. Check for concert additions and updates on the Department of Music Events calendar at southalabama.edu/music.
Purchase Your Passes and We Will See You Soon!
We look forward to seeing you at Laidlaw for our concerts. Please feel free to drop us a line if you have questions. And don't forget to tell your friends that music events at Laidlaw are always enjoyable and amazing. Spread the word... we're definitely Mobile's best kept secret!
Don't forget to download your print version of the concert series calendar -- 2022-2023 Musical Arts Series Calendar. And visit the series webpage often -- southalabama.edu/music/mas. See you starting September 6!
---
---