Craig Hultgren presents "Cello: Acoustic and Electric" Jan. 30
---
Posted on January 24, 2023 by Keith Bohnet
Keith Bohnet
---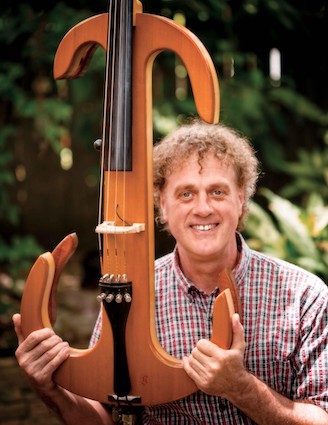 Cellist Craig Hultgren
---
Craig Hultgren will present a program of nine contemporary solo cello works in a tour of the southeastern United States at the end of January 2023. The program contains compositions for acoustic cello as well as three electronic pieces which Hultgren will perform on his ecello. With one exception, all of the works on the program have been written for him. The concert is scheduled for Monday, January 30 at 7:30 p.m.
Tickets for this Department of Music event will be sold at the door only. Admission is $8 general and $5 for USA faculty & staff, USA students, youths under 18 and all senior citizens (cash or check only). Musical Arts Series season passes will of course be honored for admission to this event. Persons needing more information about this event or in need of special accommodation may call 251-460-7116 or 251-460-6136.
Need directions to Laidlaw? Just go to Google Maps at maps.google.com and enter "USA Laidlaw Performing Arts Center." We're actually on the corner of University Blvd. and USA Drive South.
This concert is presently scheduled to appear on the USA Department of Music Live Stream page available on our website. Please check this linked site for more up-to-date information about watching this performance virtually --
https://www.southalabama.edu/colleges/music/livestream.html
For information about the Department of Music at the University of South Alabama, proceed to our website -- www.southalabama.edu/music
For information on how to become a member of the Musical Arts Society, visit our Musical Arts Series website at https://www.southalabama.edu/colleges/music/mas.html -- On that page, you'll see everything you need to know about the Musical Arts Concert Series and USA's Musical Arts Society.
About the artist
Cellist Craig Hultgren remains active in new music, the newly creative arts, and the avant-garde. He resides outside of Decorah, Iowa as the farmer-cellist. The New York Classical Review commented that he, "...played with impressive poise and sensitivity..." for Dorothy Hindman's 2016 chamber music retrospective at Carnegie Hall. At this point, almost 300 works have been created for him. A recipient of two Artist Fellowships from the Alabama State Council on the Arts, he was a member for many years of Thámyris, a contemporary chamber music ensemble in Atlanta. He is a founding member of Luna Nova, a new music ensemble with a large repertoire of performances available as podcast downloads on iTunes. Hultgren is featured in four solo CD recordings including UK composer Craig Vear's hyperconcerto Black Cats and Blues on Métier Recordings. Recently, Hultgren entered the realm of digital online releases with four works Songs for Cello and Piano by Ben Hippen available on Spotify. For ten years, he produced the Hultgren Solo Cello Works Biennial, an international competition that highlighted the best new compositions for the instrument. He taught at the University of Alabama at Birmingham, the Alabama School of Fine Arts, Wartburg College (Iowa) and Birmingham-Southern College where he directed the BSC New Music Ensemble. He is a founding member and former President of the Birmingham Art Music Alliance and was on the Board of Directors of the Metropolitan Youth Orchestras of Birmingham and their Scrollworks program. Currently, he is President of the Oneota Valley Community Orchestra Board of Directors in Decorah and serves on the Board of Directors for the Iowa Composers Forum.
---
---