JaguarsCare – Frequently Asked Questions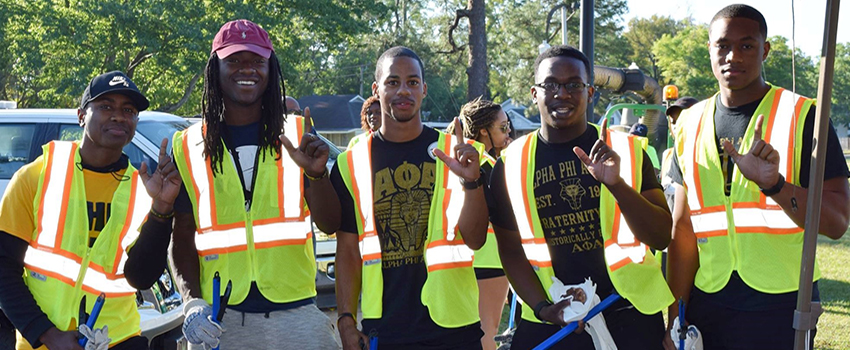 I already volunteer in my community. Why should I participate in JaguarsCare?
South Alabama alumni, students, faculty and staff are a vibrant group, engaged with their communities in countless ways. JaguarsCare celebrates that involvement, offers new opportunities for service and helps strengthen bonds within our University.
Who should I contact with a question about a particular project?
We will post projects and contact information, organized by region, as we receive them from organizers. If you have additional questions or can't find the information you need, please contact Ailey Shirazi at shirazi@southalabama.edu or (251) 460-7259.
Who should I contact if I have an idea for a JaguarsCare project in my area? What if there is no project planned in my area?
Please contact Ailey Shirazi at shirazi@southalabama.edu if you would like to organize a project or know of an organization that could be a good partner. We are happy to help plan a project in your area and promote it to fellow Jags in your area. Remember, no project is too big or too small.
Can family and friends participate in a JaguarsCare project?
Absolutely! We hope that all members of the South family and their friends will participate. Please check with your service project coordinator first to be sure the project can accommodate children or those of differing abilities.
Who should I call with questions on the actual day of a JaguarsCare project I am participating in?
Please contact the service project coordinator in your area (see the project listing for their contact information).
May I take photos of alumni to share on social media?
Taking photos is a great way to recognize the efforts of your team and to create a sense of camaraderie. Please be sure to check with the contact person at your partner organization about restrictions or guidelines on photography (especially projects that involve children under 18 years of age).
Use #JaguarsCare and #WeAreSouthAlumni on social media posts so South alumni around the world can see your efforts, and send us your photos so we can share them on South Alabama Alumni Association's social media pages as well.