Around the World in 80 Stays
---
Posted on June 27, 2018 by Alumni
Alumni
---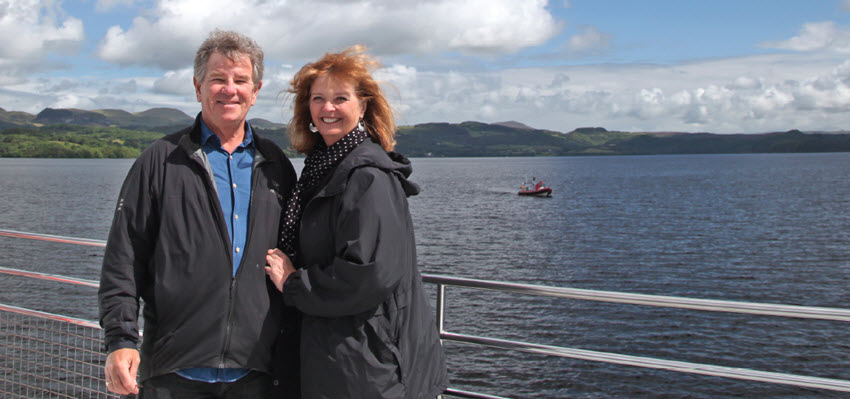 ---
For people who recently flew around the world in their new jet, University of South Alabama alumni Julian and Kim MacQueen are incredibly grounded.
The couple dubbed the trip "Around the World in 80 Stays," flying in their new HondaJet HA-420, the first jet ever produced by the automotive manufacturer.
"I ordered this jet 10 years ago when it was still in the drawing board stage," said MacQueen, 67, who paid for his first pilot lessons years ago with tip money he earned while working as a waiter. It's the third jet the couple has owned, and they were the first to fly a HondaJet around the world beginning Aug. 6 through Oct. 16, 2017.
Throughout much of the journey, Kim MacQueen was in the co-pilot seat.
"I have four hours in the pilot log book, and I took a course to learn how to land a jet in case something happened to Julian," she explained. "Everything about the trip went easily, and it was a gob-smacking wonder ride from beginning to end!"
The couple talked about the trip, their guiding philosophy and their work ethic during an interview inside their apartment at the Hilton on Pensacola Beach, the flagship hotel of their company. Like so much of their lives, the spacious rooms, filled with world-class artwork — including sculptures by his sister — and overlooking the Gulf of Mexico, resulted from an idea to determine if it's time for them to downsize from the large home in nearby Gulf Breeze where they raised their family.
Working together to hammer out new and innovative ideas in each of their careers and lives, plus incredibly hard work by each, has led to great success during their 40-year marriage. Julian MacQueen is founder and CEO of Innisfree Hotels, an innovative company that places enormous value on the worth of its employees as well as in a culture of "delivering excellent service, guest satisfaction and return on its investment." Kim MacQueen, who has worked as a therapist, especially with couples, and has taught at the university level, is now pursuing a multidisciplinary doctorate through the California Institute of Integral Studies. Their family includes Jonathan, their 45-year-old son and his wife Kate, Skye, their 36-year-old daughter and two "adorable" grandchildren, ages 4 and 11.
They have been recognized for their generous philanthropy in a variety of areas, including education, the arts and healthcare, and they point to their shared Bahá'í Faith, based on the principles of giving back to the community as well as helping others to reach their highest potential, as the impetus for their generosity. In 2014, USA's National Alumni Association honored Julian MacQueen with a Distinguished Alumni Award for his achievements as an entrepreneur, commercial pilot, developer and CEO of Innisfree, Inc., based in Pensacola, Fla.
Recently, the MacQueens donated funds for construction of a permanent home for the USA National Alumni Association. The building, which will be located on USA South Drive across from the Moulton Tower and Alumni Plaza, will be named the Julian and Kim MacQueen Alumni Center.
"The time I spent at USA was important to me," said Julian MacQueen, who graduated with a degree in psychology in 1973. "During my time there, I attended my first Bahá'í meeting on campus through an 'experimental college' endorsed by the administration."
Outside the classroom, he also had a student job in the Office of Public Relations, worked as a psychiatric attendant at the USA Medical Center and later held an off-campus job at the Admiral Semmes Hotel in downtown Mobile.
But, the Birmingham, Ala., native's introduction to the hotel business began the summer when he was 15 with a job busing tables at the Jack Tar Beach Hotel, a well-known Destin, Fla., venue that opened its doors in the 1950s.
"I realized that I just loved the hotel business, and I went back the next year. I think the service side of
the business resonated with me, leading me on. It was about the idea of creating environments conducive to making connections that intrigued me," Julian MacQueen explained.
"The psychology degree Julian got at USA was a huge help for him going into the hotel business," Kim MacQueen added.
Her husband is known for his innovative approach to managing employees in a way that encourages them to speak out and participate fully even as they learn on the job. The concept is unusual in many workplaces today. The company's website describes it as:
Nurturing, encouraging and empowering.
Intrapreneurial (behaving like an entrepreneur while working within a large organization).
Consultative. Seeking the input of employees at all levels.
Servant leadership.
He's also quick to give his wife credit for helping him. "On our honeymoon, we worked by counting cars in hotel parking lots. We were looking at tags to see where people were from. We bounce ideas off each other. That's the way we've always done things." Sitting next to him, his wife nods her agreement.
The sharing of ideas is important to the MacQueens, and that atmosphere extends to their wishes for the new alumni center. "We would hope to see this center used as a place for discussions about ideas, as a facility for teaching and as a place for the embracing of all as one human family. We want this to be a learning center," Julian MacQueen said.
Asked about any plans for retirement, the pair looks at each other and hesitates before Julian MacQueen answers, explaining that their trip around the world was more than a vacation.
"We called it 'Around the World in 80 Stays.' At each place we stopped, we were looking for new ways of hospitality as well as new ways hospitality was part of each community, and we wanted to learn the role each destination played in those concepts," MacQueen explained. "What better way is there to live life than to travel and enjoy work at the same time?"
To learn more about Julian and Kim MacQueen's trip around the world, including a blog, videos and photos, visit www.aroundtheworldin80stays.com.
---
---