---
Posted on June 9, 2022 by Alumni
Alumni
---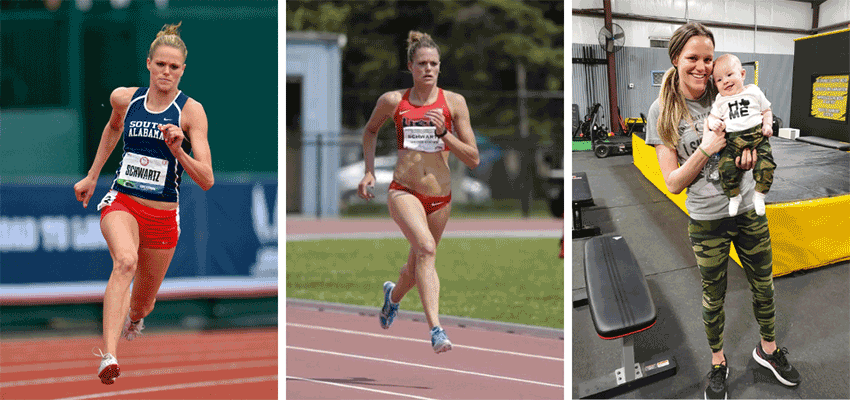 From star college athlete to Olympic hopeful, Lindsay Flach '12 reflects on how South shaped her future.
---
Track and field star Lindsay Flach has had – as she aptly put it – a great run. The decorated heptathlete earned a slew of NCAA honors as an undergraduate at South, competed in three Olympic trials (including 2021, when she was 18 weeks pregnant), and maintained a pro career for nearly a decade.
In the physically punishing world of the heptathlon – a two-day, seven-event sport – not many athletes have the staying power to maintain such a long career.
Now, officially (mostly) retired from professional competition, Flach has eased into the next chapter of her life, juggling parenthood and her work running a gym in Victoria, Texas. From this new vantage point, she's able to reflect on the lessons learned during her athletic career.
At the Starting Block
Originally from Wisconsin, Flach came to South Alabama as Lindsay Schwartz, a high school track star and member of the state champion volleyball team who was attracted to USA because it was one of the few schools that would let her pursue both sports. Despite those early bona fides, her college track career got off to a rocky start. "My freshman year was really rough," Flach said. The transition from high school to college knocked her off her game: All the athletes around her were talented. She was 17 hours away from home and was juggling two sports.
Her sophomore year was a turning point. "I actually did not know what the heptathlon was until I got to college," Flach admitted. "But I was so used to multi-sport events, that I said, this will probably fit me well. And it obviously did." At her first conference meet, she placed second in the indoor pentathlon. At her first heptathlon, she placed first.
Her junior year, she quit the volleyball team and went all in on track, training about 20 hours a week. "We were the first ones out at the track and the last ones to leave," she said. "School, practice and homework were my life, but I loved it."
Throughout her college career, she had a habit of finding herself "on the bubble" – right on the cusp of having a score that would qualify her for the next round of competition. "I was not guaranteed a spot, let's just say that. I was on the very edge of, if one more person breaks the score that I put up, I would be out," Flach said.
Her senior year, she earned a qualifying mark that put her in that familiar spot on the bubble. This time, it was on an international stage: the 2012 Olympic trials, where she was poised to compete with South on her chest. "I was on the plane out there, and I didn't know if I was actually going to compete, or if I was going to be sitting in the stands," she said. It wasn't until she got off the plane that she saw she'd been officially accepted. "I've had a couple of those nerve-wracking times in my career."
Just Go Run
That fall, she came back to South for an encore season of volleyball. After that, she bade farewell to college and headed west to compete for a track club in California.
Over the course of her career, Flach competed in more national championships than she can remember – somewhere in the neighborhood of 18, though she can't say for sure. During that time, she made nine USA teams, competing in Italy, France, Germany and Canada.
During the 2018 USA Track and Field Championships, Flach found herself in seventh place with one event to go: the 800-meter run. "Once you start to learn the 'hep,' you kind of know how many points and how many seconds you have to be away from someone to beat them," she says. This time was different, though. "My coach was literally just like, go run, and things will take care of themselves. So that's what I did. I went and ran."
That simple directive pulled her from seventh place to the podium. "Now, looking back on it, I wish I would have done that more often," she said.
Flach planned for 2020 to be her last year as a professional athlete. As she prepared for her grand finale, she turned over her entire life to training. She saved money, quit her job, and moved three hours away from her then-fiancé, Randy Flach, a former Jags track and field coach. Then COVID hit, casting a pall of uncertainty over the Olympics.
Like many people, Flach changed her plans. She and Randy got married and decided to start a family. And when a new date was set for the 2020 Olympic trials, she found that she would be competing four months pregnant.
"I just kept telling myself I was going out on my terms," Flach said. Having watched many of her colleagues forced into retirement because of injuries, she was determined to write the final chapter of her pro career. She pressed on, despite months of debilitating morning sickness.
"I had a plan for my training, but I had to alter it almost every day," Flach said. "When I would feel good, I would try to get hard workouts in, and the other days I would just do what I could. It was hard. I would do it all over, but I learned from that."
The Road Ahead
Flach vacillates on whether she's truly finished with her professional athletic career. "I think I'm done," she said, followed a beat later with, "I can't 100% say that. Right now, I say 'definitely,' because it's impossible to work out with him (four-month-old son Rylan). But maybe that will change one day."
She reflects on her years at South fondly, with a bit of wisdom gained with age. "You learn life; you learn how to be a good human being; you learn leadership skills; you learn job-quality skills," Flach said. "It's a combination of all these things, instead of just being a student, and you learn to push boundaries and uncomfortable zones."
Laughing, she adds, "It's all the lessons I wish I would have been taught at an earlier age. I learned from experience."
---
---