From the Battlefield to the Classroom
---
Posted on November 19, 2018 by Alumni
Alumni
---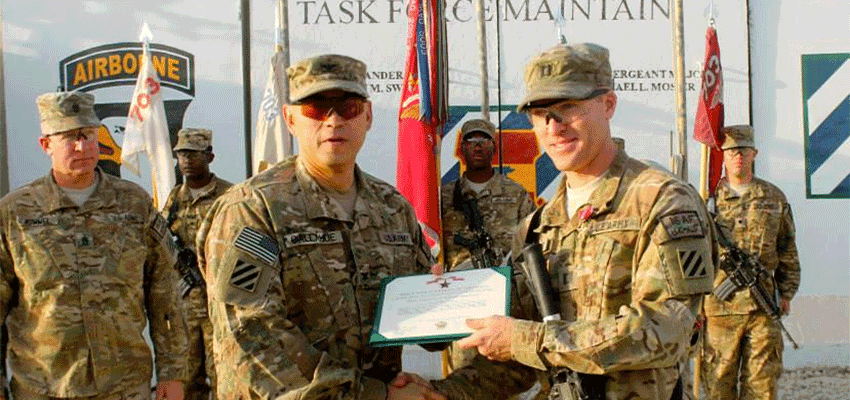 ---
"You adapt to the environment you're put in."
As a graduate-level physical therapy assistant professor in USA's Pat Capps Covey College of Allied Health Professions, Jeremy Fletcher not only tries to pass his knowledge to his students, he lives it.
When Fletcher entered Nicholls State University in Thibodaux, La., as a freshman in 1997, he dreamed of one day being drafted into the major leagues as a pitcher. After playing for NSU and the University of Louisiana-Monroe, Fletcher realized that baseball was not in the cards for him as a long-term career.
Newly married to his wife, Cherish, and with a bachelor's in health and physical education in-hand, Fletcher needed to find a way to support his family.
"I decided to join the U.S. Army Reserve, partly because I would have money to go back to school and partly because I didn't really know what I wanted to do when I graduated," said Fletcher.
With a background in athletics, coaching and physical education, Fletcher began his military career as an enlisted medic, which led him to a physical therapy specialist course at Fort Sam Houston in 2004 and the real beginning of his career trajectory.
He applied and was accepted into South's doctor of physical therapy program in 2005, but the Army had different plans. Fletcher was mobilized for the next 18 months as a physical therapy specialist at Bayne-Jones Army Community Hospital at Fort Polk, La.
Fast-forward five years. In May 2010, Fletcher completed his doctorate degree at South and received a direct commission as a captain in the Army Reserve. At Winn Army Community Hospital in Fort Stewart, Ga., Fletcher was assigned as the only physical therapist for 4,000 soldiers, preparing them for deployment.
This daunting task forced Fletcher to, once again, adapt to his surroundings and prepared him for an even more important mission. In 2013, the Army deployed Fletcher to FOB Shank (a forward operating base of the U.S. military, located in the Logar province of eastern Afghanistan). His duty was to travel, by military helicopter, from one combat outpost to another, to treat 50-100 combat soldiers at each post. He continued this grueling routine for nine months.
"My role was to get them back in the fight as quickly as possible," said Fletcher.
Upon his return to the states, Fletcher decided to pursue a more stable career—one that would allow more time with his family of five. He contacted Dr. Dennis Fell, then chair of USA's physical therapy department and found there was an assistant professor position available. He was hired and made the transition from Army life to academia in 2015.
Fletcher didn't leave his military roots behind, though. Outside of the classroom, his focus is now volunteering with Veterans Recovery Resources, a nonprofit organization with the mission of delivering highest-quality, compassionate, affordable substance abuse and mental wellness services to all veterans–and their families–who need help. As a veteran adviser and part of a 10-person clinical team, Fletcher is helping to develop a process of in-patient residential treatment at the VRR's facility that recently opened in Mobile.
Fletcher's adaptability from the baseball field to the battlefield to the classroom has served him well. "There's a great ability to impact the students and the community," said Fletcher. This veteran-turned-professor plans to use his unique life experience to make positive impacts on both.
---
---