---
Posted on June 28, 2021 by Julie Jackson
Julie Jackson
---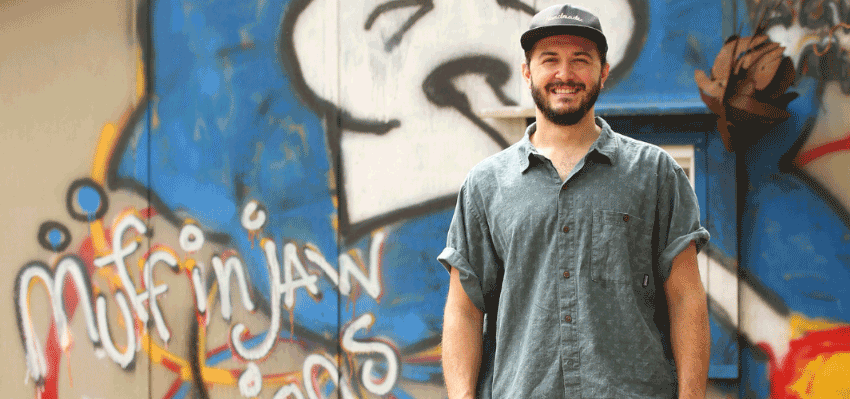 Freddie Blache '17, Owner, Muffinjaw Designs , Mobile, Ala.
---
As a kid, Freddie Blache loved to play with fire.
So it shouldn't have been a surprise when, after just one elective glassblowing class, he was hooked. Blache returned to South for the spring semester and changed his major from history to art.
What's in a name?
Imagine musician Louis Armstrong blowing into his trumpet. That's the same puffed-out cheek—or muffinjaw—look that glass artists have when blowing air into a pipe to create a glass bubble. Blache said the name is also an homage to his father's childhood nickname.
"He was the one who first pushed us to start selling our work," said Blache.
Starting Small
Muffinjaw Designs, which consists of Blache, his wife, Caroline Gratton '17, Gage Nobles '19 and Tres Johns '17, began selling their art in January 2016 at a sidewalk table during ArtWalk in downtown Mobile while still students at South.
"Slowly, but surely, we started getting asked to set up booths at different events," Blache said.
Once they started gaining a following, they decided to launch their business.
Five years later, Muffinjaw Designs is available at several local stores and galleries in Mobile and Baldwin County, as well as online.
"We're slowly trying to expand to the greater Gulf Coast region," said Blache.
If at first you don't succeed
Blache has some advice for glassblowing students who may want to start their own businesses.
"Spend every waking moment and free time you have in South's studio."
He said South gave him the opportunity to learn through his mistakes.
"It emboldened us to get out there, take risks and try new things."
Watch Blache's interview here.
---
---