William B. Burnsed Jr. Department of Mechanical Engineering
---
Posted on July 12, 2019 by
---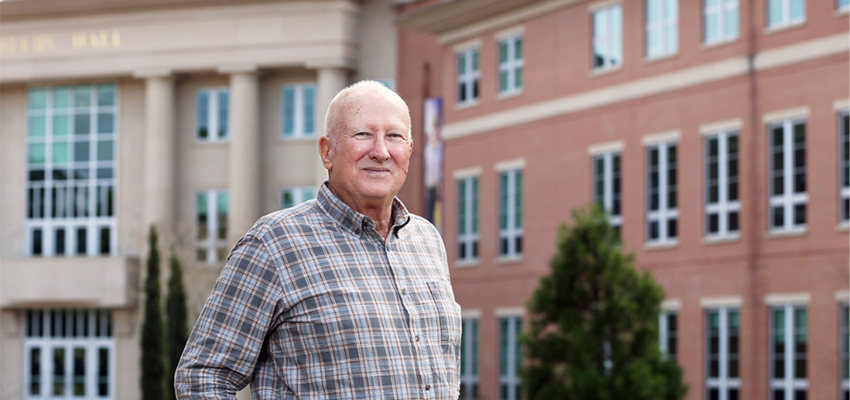 ---
William B. "Bill" Burnsed Jr., a 1972 graduate of the University of South Alabama College of Engineering, has donated $1.5 million to the college's department of mechanical engineering, which will be named the William B. Burnsed Jr. Department of Mechanical Engineering.
This gift will enhance the College of Engineering's ability to provide the highest-quality instruction, conduct innovative research and provide valuable service to the community.
Burnsed worked as an engineer for South Central Bell and BellSouth for 20 years before starting Burnsed Oil Co. Inc., which explores for and produces crude oil. He credits much of his success to the education he received at South. "I had always planned on giving back to South," said Burnsed. "I never would have gotten to where I am today if I had not received my engineering degree, and South best fit my needs to be able to accomplish this."
University of South Alabama President Tony Waldrop emphasized the positive impact Burnsed's gift will have on the University's students and faculty.
"This generous gift will allow our College of Engineering faculty to continue to provide exceptional academic curricula, and it will lay the foundation for transformational growth in the department of mechanical engineering," Waldrop said. "Through Mr. Burnsed's generous support, South's engineering students will continue to become the problem solvers and leaders of tomorrow."
Dr. John Steadman, retiring dean of USA's College of Engineering, said this investment is a game-changer for the department of mechanical engineering.
"Bill Burnsed represents the epitome of what engineers do," said Steadman. "He uses his knowledge of science and mathematics to create systems and a business that make life better for everyone. His achievements and generosity have brought honor and recognition to the college, for which we are truly grateful."
In addition to his latest gift to the College of Engineering, Burnsed has previously established the William B. Burnsed and Amy Burnsed Barter Scholarship Endowment that provides assistance to undergraduate students in the College of Engineering. He has also donated substantial gifts to the MacQueen Alumni Center and Hancock Whitney Stadium.
---
---