Championing the Gift, Leaving a Legacy
---
Posted on July 11, 2019 by Alumni
Alumni
---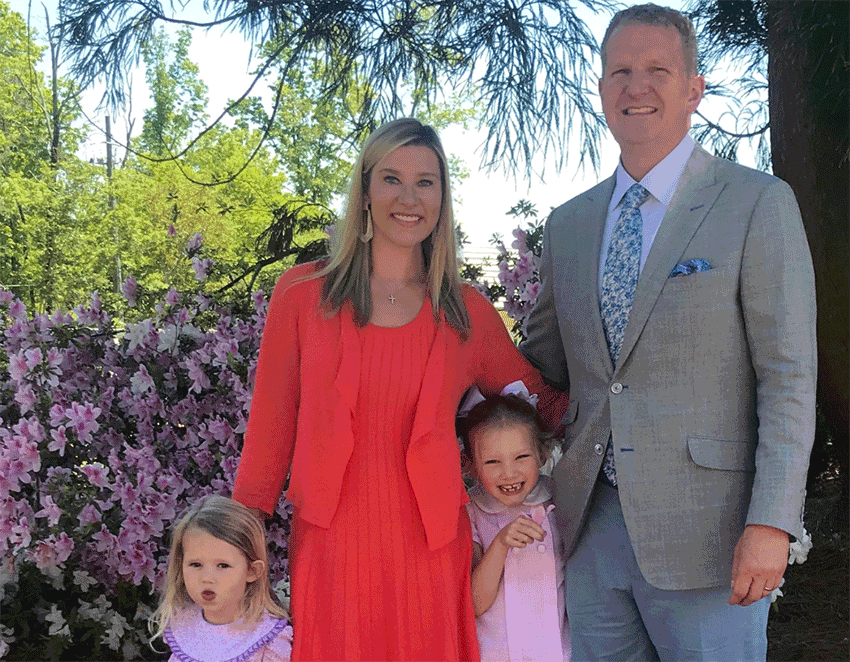 With construction underway and the MacQueen Alumni Center closer to becoming a reality at the University of South Alabama, a new fund development effort has been championed by another alumnus, Lee McKinney, a former member of the USA National Alumni Association board of directors.
A LASTING LEGACY
McKinney's most recent donation of $100,000 will help create the McKinney Family Greek Plaza in honor of his organization, Sigma Chi fraternity, and the entire Greek-letter system at South Alabama. McKinney, who attended South from 1989-1992, recalls having an amazing and rewarding experience as a student and a member of the South Greek system.
"I wanted to honor my fraternity and leave a lasting legacy for the entire Greek system at South," McKinney explained. "When talking to Karen Edwards, South's alumni director, I mentioned that it was important for us to have a place on campus where all members of the Greek organizations could gather and fellowship. And the McKinney Family Greek Plaza idea was born."
IT'S A FAMILY AFFAIR
It was important for McKinney, who came to South on a track scholarship, to do more than help think of an idea, and that's when he and his family decided to help kickstart the campaign with his initial gift. McKinney has a history of giving at South. He has supported the track team, donated funds to South and created an endowment for track and field student scholarships at South that total nearly $300,000.
"I really enjoyed my time at South Alabama," McKinney said. "I want to make sure all students and students of the Greek system have a wonderful experience. This gift for the McKinney Family Greek Plaza is given in honor of my family, which includes my wife, Candice; my two daughters, Everlee, age 6; Ella Slaton, age 3; my parents, Roddy and Janice; and my brother, Danny. As representatives of our family company, McKinney Capital, with offices in Birmingham, Mobile and the Southeast, it's important that we give back whenever we can. And we are committed to giving to South."
SOUTH'S BRIDGE BUILDERS
Over the years at South Alabama, the students in the Greek system have served as outstanding leaders, and now they are making contributions as professionals who are giving back to their alma mater with their time, skills, expertise and dollars.
"I believe South Alabama has a unique Greek system. It has always been open and inclusive to students from broad backgrounds," said Patrick Dungan, National Alumni Association president and member of Tau Kappa Epsilon fraternity. "We know our diversity makes us stronger, and now we will have a place to gather, fellowship and enjoy our beautiful campus together."
Dungan, '06, has been on the South Alabama alumni board since 2012, and he has been able to watch the implementation of the construction of the MacQueen Alumni Center and now the new McKinney Family Greek Plaza, which will be housed on the front exterior of the center.
"Through the Greek system at South, I have created lifelong friendships, and doors have opened for me, and I have a strong understanding of how to work with those who are different and have varied experiences. The McKinney Family Greek Plaza will be a great asset for our campus. I am proud to be a South alumnus. We have a great alumni board of directors, and we are grateful to the staff who is a huge asset as well. It's an exciting time for South Alabama."
Douglas Whitmore '05, National Alumni Association immediate past president and member of Tau Kappa Epsilon fraternity, was very involved with the plaza's design. He said the McKinney Family Greek Plaza will be an anchor for the new alumni center.
"This will be a functioning space where members of all the Greek organizations can gather to take photos and enjoy each other," Whitmore said. "This space will give us a sense of pride. We have several past presidents who have served and helped make this space a reality."
THE PATH WE WALK TOGETHER
As of this spring, 15 Greek organizations and their members have donated $10,000 each to help build the McKinney Family Greek Plaza. The plaza will have a seating area with engraved plaques recognizing each Greek organization. The Greek members all agree this will be an important and lasting legacy for the Greek system at South.
Jeb Shell, '00, National Alumni Association past president and member of Kappa Alpha Order fraternity
"When I was president, I was very involved with managing and approving the design process and the McKinney Family Greek Plaza has gone through a couple of design phases," Shell noted. "The overall purpose is to showcase the Greek organizations that are currently on campus along with those that have been around since the University was founded. It was the membership of the Greek organizations that helped to start and create the National Alumni Association."
Margie Tuckson, '73, USA trustee and member of Delta Sigma Theta sorority
"It was significant to make sure we supported this important initiative, and have a presence in the new McKinney Family Greek Plaza," Tuckson shared. "As one of the charter members of the Iota Nu City Wide Chapter of Delta Sigma Theta Sorority Inc., founded in 1972, I am elated that we represent South Alabama, Spring Hill College and the University of Mobile. I am proud that we will play an important role in helping to create this cultural space for all Greek organizations to come, fellowship and enjoy together. I knew when we joined this effort several years ago, this would lead to us building a strong legacy at South for Greek organizations."
Patrick Hicks, '71, member of Phi Kappa Sigma fraternity
"When I became aware that the McKinney family wanted to create and support the McKinney Family Greek Plaza," Hicks said, "I saw this as an opportunity for the Greek system to participate in something we all could benefit from and be proud of. My fraternity saw the importance of us giving to this much-needed space for the Greek system. We didn't have any problems raising the funds."
Kim Lawkis, '11, '13, member of the Chi Omega fraternity
"Greeks are the most involved across campus," Lawkis noted. "We are humbly honored to be able to support such a great campus initiative. This new space will give us a place to be recognized. And, we will be able to showcase our organizations and honor our past and the future. I am proud we are South alumni."
Grace Newcombe, '19, immediate past president of the Student Government Association and member of Phi Mu fraternity
"Phi Mu joins all the other Greek organizations by having a strong legacy of fund development and philanthropy," Newcombe stated. "We are grateful to be able to join the McKinney family in providing support for this much needed space for Greeks on South's campus."
The NAA expects construction of the MacQueen Alumni Center and McKinney Family Greek Plaza to be completed by spring 2020.
McKinney Family Greek Plaza, in honor of Sigma Chi Fraternity, Participating Organizations:
NATIONAL PANHELLENIC COUNCIL
Delta Sigma Theta
Kappa Alpha Psi
Sigma Gamma Rho
PANHELLENIC COUNCIL
Alpha Gamma Delta
Alpha Omicron Pi
Chi Omega
Kappa Delta Phi Mu
INTERFRATERNITY COUNCIL
Kappa Alpha Order
Phi Kappa Sigma
Pi Kappa Alpha
Pi Kappa Phi
Sigma Alpha Epsilon
Sigma Chi
Tau Kappa Epsilon
---
---