---
Posted on November 19, 2018 by Alumni
Alumni
---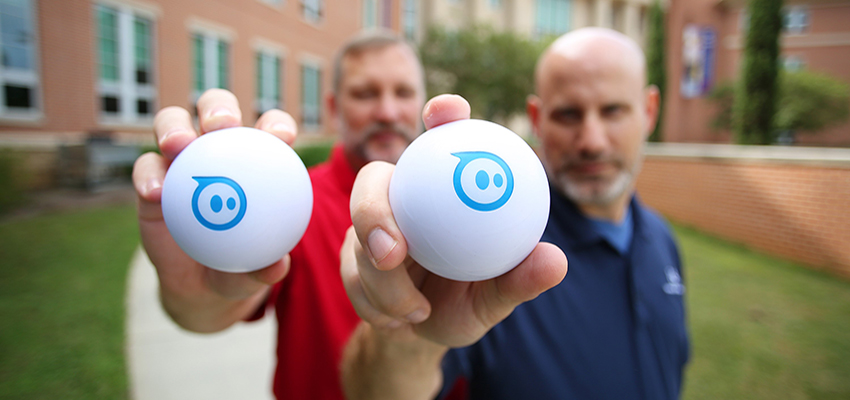 ---
Cybersecurity is typically not high on the list of priorities for rising high school freshmen. However, for 60 ninth-graders at W.P. Davidson High School in Mobile, cybersecurity is not only a priority; it is a possible future career.
Four years ago, Dr. Todd McDonald and Dr. Todd Andel, faculty in USA's School of Computing, received a grant from the National Security Agency and the National Science Foundation to hold a cybersecurity camp for high school students on USA's campus. The goal was to pique young students' interest in the field and, one day, hopefully, for those students to attend USA's School of Computing.
"We already had a good relationship with Davidson," said Andel. "It's a competitive magnet program, and we decided to target students who were entering the EPIC program in the ninth grade."
EPIC (Engineering Pathways Integrated Curriculum) is a specialized curriculum path that prepares students to enter post-secondary education qualified for majors that rely heavily on math and science, like computer science and engineering. McDonald and Andel continued running the one-week camp with NSA funding through 2017.
"Last year we decided to seek industry funding instead because it allows for more flexibility with the camp curriculum," said McDonald.
But teaching cybersecurity comes with a hefty price tag. This year's camp cost about $35,000 and more than half was funded by a sponsorship from AT&T's Aspire program, with the goal of investing in high school-aged students to prepare them for future success in the field of cybersecurity.
"Students these days have grown up with smart phones and devices, so they are very familiar with how to use them," said McDonald. "However, hardly any of them have the understanding of how things can go wrong."
During the camp, students and faculty discuss topical current events, like how to protect their personal information online and on their phones. Students also spend the week learning basic "block code" programming.
"It teaches them the concepts of coding without requiring them to know how to program on day one," said Andel. With basic programming under their belts, campers learn to program Sphero balls (think BB-8 from Star Wars) that they use to race through mazes in the Shelby Hall lobby.
"We won't see the fruits of this until 2019," said Andel. That is when the camp's inaugural students will graduate from Davidson and, possibly, enroll in USA's School of Computing.
---
---