Distinguished Alumni and Service Awards
---
Posted on June 28, 2018 by
---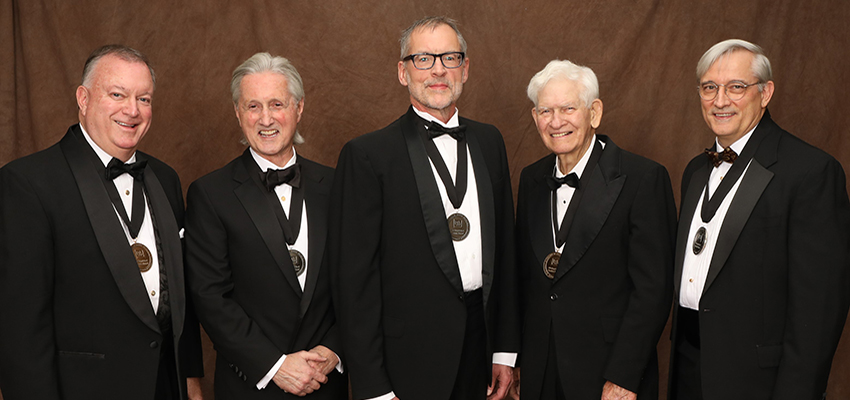 ---
The University of South Alabama National Alumni Association honored five alumni for their outstanding achievements during the 14th annual Distinguished Alumni and Service Awards gala at the Mitchell Center on Thursday, March 1.
"The Distinguished Alumni and Service Awards dinner celebrates the accomplishments and achievements of our remarkable alumni," said Vice President for Development and Alumni Relations Margaret Sullivan. "South has many accomplished alumni who give back to their communities in extraordinary ways, and this event is an opportunity to publicly recognize five of these inspiring individuals."
THIS YEAR'S RECIPIENT OF THE DISTINGUISHED SERVICE AWARD:
Thomas Joe Purvis, '74, former sheriff of Mobile County from 1975-1995 and founder of the Junior Deputy program in local schools to help children better understand the role of law enforcement officials.
THIS YEAR'S RECIPIENT OF THE V. GORDON MOULTON DISTINGUISHED SERVICE AWARD:
Stephen Erwin Clements, '78, attorney in Mobile and former president of the USA National Alumni Association. He currently serves as a volunteer leader for the Mitchell-Moulton Scholarship Initiative and is an elected member of the South Alabama Athletic Hall of
Fame Committee.
THIS YEAR'S RECIPIENTS OF THE DISTINGUISHED ALUMNI AWARDS:
Christopher C. Melton, '81, chairman and CEO of The White Oak Group. He endowed the Melton Center for Entrepreneurship and Innovation at USA's Mitchell College of Business with the vision to educate, engage and impact the Central Gulf Coast region.
Dr. Thomas M. Miller, '77, MD '81, retired Alabama State Health Officer with the Alabama Department of Public Health. He played a pivotal role in the department's efforts to reduce infant mortality, obesity and diabetes in Alabama.
Dr. Joseph I. Molyneux, '70, adjunct criminal justice/security management professor at American Military University and Tulane University. He worked for more than 20 years with the U.S. Drug Enforcement Agency and for five years with the FBI in New Orleans.
"We are honored to host this annual gala in recognition of our outstanding alumni," said Executive Director, USA National Alumni Relations Karen Edwards. "USA alumni are continuously making a difference across the globe and setting an example for future generations of Jaguars."
---
---