College of Engineering Celebrates 50 Years
---
Posted on July 11, 2018 by
---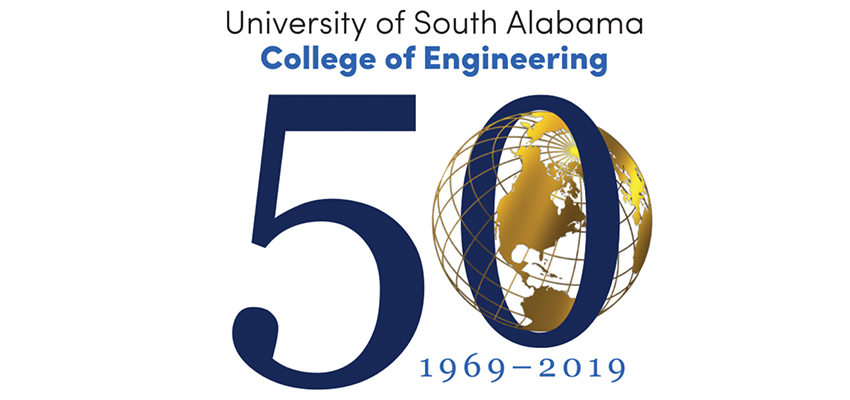 ---
It was 1964 at the University of South Alabama. Fall enrollment – the first fall enrollment for the one-year-old university – was 928 students. There was only one building. But it was from these humble beginnings that a seed was planted.
In just the second meeting of the University's board of trustees, on Jan. 31, 1964, President Frederick Whiddon outlined in a brief report that USA would add a "department" of engineering. Later that year, retired Admiral M.E. Eaton was named associate professor and head of the engineering department. He was, in fact, its only faculty member.
Times have certainly changed. The department became a college. Faculty have grown from one to nearly 50 full-time positions. USA's College of Engineering now has four academic departments: chemical and biomolecular engineering; civil, coastal and environmental engineering; electrical and computer engineering; and mechanical engineering. It offers five baccalaureate degrees, four master's degrees and a doctoral degree in systems engineering. More than 6,000 degrees have been awarded in the college's history; roughly 4,700 undergraduate and 1,300 graduate degrees. Enrollment this fall included 1,210 undergraduate students and 67 graduate students.
Here in 2019, the College of Engineering is celebrating its 50th year as a college. Its home since 2012, Shelby Hall, hosted the college's 50th anniversary gala on Saturday, April 13.
"This event honored the engineering profession, the college and the world of difference engineers make in Mobile and beyond," said Dr. John Steadman, dean of the college for the past 18 years. "As we mark this occasion, we wanted to honor our alumni, corporations, foundations, faculty and staff who have made a lasting impact on the college and the engineering profession."
In many ways, Shelby Hall itself symbolizes the growth and maturation of USA's College of Engineering. The 155,000-square-foot classroom and laboratory building is prominently located at the southeast corner of campus near the intersection of University Boulevard and Old Shell Road. Shelby Hall contains 63 laboratories, 17 classrooms, three large multimedia auditorium classrooms, five computer labs, five student study areas and seven student design rooms, offices for faculty and staff and much more.
---
---