---
Posted on June 9, 2022 by Alumni
Alumni
---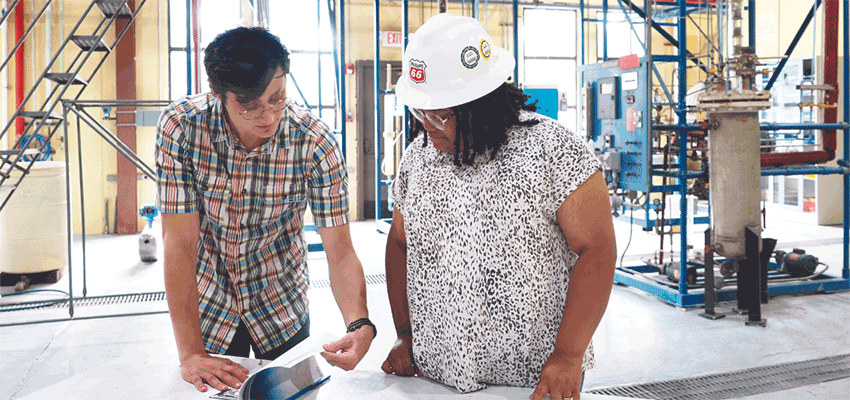 ---
When Keira Ross walks through Shelby Hall, every engineering student seems to know her, need her, or have something to say to her.
One junior is worried about a test Ross will be giving for one of her professors. One senior promises Ross a copy of his resumé to share with a recruiter. A group of students greet her in the common area that is her favorite hangout on the fourth floor.
"We were studying there until 2 a.m. last night," she said, shaking her head. "I have a lot of things during the day, so I default to nights."
Ross, a 22-year-old senior, is president of South's chapter of the American Institute of Chemical Engineers and the National Society of Black Engineers. She's also a student ambassador for the College of Engineering, has served as a senator in the Student Government Association and is a member of Jaguar Productions.
"I'm a member of the Vietnamese Student Association, too, which is kind of strange," she said. "One of my friends is Vietnamese, and he roped me into it."
For two summers, Ross was an intern at a Phillips 66 oil refinery in Belle Chasse, La., south of New Orleans. After graduation, Ross will begin work as a chemical engineer for ExxonMobil in Baytown, Texas, outside Houston. In Shelby Hall, students and faculty admire her energy and enthusiasm, along with her unwavering willingness to help others.
"She's a fantastic student," said Dr. Kevin West, professor of chemical engineering. "She's also an excellent leader."
Jim Moore, president of the USA National Alumni Association, is one of her biggest boosters. He helped Ross secure her first internship at Phillips 66, where he has worked for more than 30 years.
"My wife and I met her at a tailgating party for the College of Engineering," Moore said. "We talked to a lot of bright students that day, but when we left, I asked my wife, 'OK, which student impressed you the most?' And she said, 'Oh, hands down – Keira.' And I said, 'Me, too.'
"She's going to do great things, I guarantee you that," Moore said. "She's such a hard worker and wonderful person. I don't have a daughter, but if I did, I'd hope she'd be like Keira."
The Eloping Engineer
When Ross isn't studying and leading student groups at South, she works part-time as a waitress in downtown Mobile.
"I make it fit my schedule," she said. "I work weekends and late shifts."
In December, Ross also found time to get married. Her husband, Thomas Benefield, is a 24-year-old Army veteran who works as an industrial radiographer.
"We were planning this big, elaborate wedding, but then I thought, this is a lot of money," Ross said. "And it would have been right when I was graduating and starting a job in Texas."
Ross grew up in Jacksonville, Ala., where her mother works as a supervisor at Sam's Club. She has a younger brother, Antonio, who's in high school, and a younger sister, Amiaya, who's a sophomore studying hospitality and tourism management at South.
When her parents divorced while Ross was in high school, the family had to separate, living with different people. She worked two part-time jobs, at McDonalds and Waffle House, to help them afford to get back together. She doesn't talk much about that part of her life.
"I don't want people to feel sorry for me," she said. "My mom raised me to be a fighter."
When one of her Waffle House managers asked about college plans, Ross said she wasn't sure if she was going and didn't know what she would study. When he asked about her interests, she said math and chemistry, and he suggested she speak with a chemical engineer he knew.
"I know it's crazy," she said, "but that's literally how I chose chemical engineering."
Senior Project and First Job
Ross toured South when she traveled to Mobile during her senior year of high school. She went to prom with a friend who was a student at the Alabama School of Math and Science.
At the University of South Alabama, Ross earned the Stallworth Chemical Engineering Scholarship, along with a National Science Foundation scholarship through the Louis Stokes Alliance for Minority Participation program.
In high school, she was smart enough to get away with studying only on the night before tests. In college, she had to learn better study habits. The chemical engineering curriculum was a challenge.
"Me and my classmates have struggled together," Ross said, "so that makes it OK."
Ross doesn't have much time for extracurricular activities. She and her husband live near campus. She and her sister like to dance along to YouTube videos.
For her final semester, Ross is working long hours on a senior design project. Distractions include finding an apartment in Texas, which seems frightfully expensive.
She's nervous about starting work, but thinks ExxonMobil will be a good career move. She's just getting her start as a chemical engineer. "I need to network as much as possible, and Houston is the place for that," Ross said. "It's Chem-E heaven."
---
---