An Evening Under the Stars
---
Posted on May 18, 2023 by Alumni
Alumni
---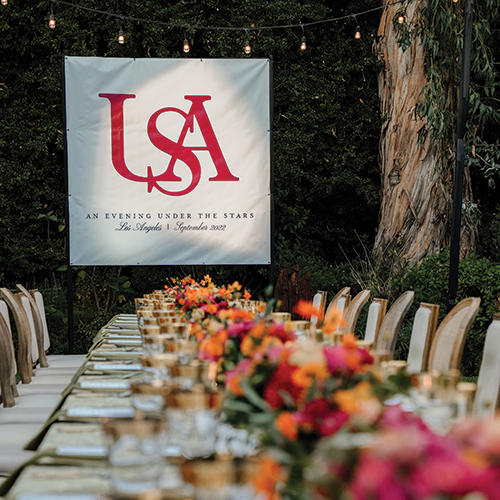 Local alumnus Dan Ollis and Hal Swanson hosted an evening at their home in the Hancock Park neighborhood of Los Angeles. South alumni from across the country mingled with President Bonner and USA leadership to hear what South is doing and, critically, what alumni can do for South. Dan and Hal's wishes were to spread the message that to whom much has been given, much is expected.
Dan and Hal worked for months with Vice President for Development and Alumni Relations Margaret Sullivan and National Alumni Association Executive Director Karen Edwards to plan the perfect evening. Alumni from Los Angeles, Phoenix, Atlanta, Pensacola, San Francisco, Tucson and Mobile attended this special event. From the save the date and engraved invitations to the swag bags given to every guest upon leaving, the evening was exquisite.
Celebrity Chef Edouard Moyal, who cooks for Eric Clapton, Joe Walsh and Ringo Starr, among others, created a spectacular outdoor, seated, seven-course French dinner. The evening combined food, drink and fellowship to discuss the upcoming football game at the Rose Bowl and to further alumni connections. But most importantly, it showcased and celebrated how the University contributed to the accomplishments of those in attendance.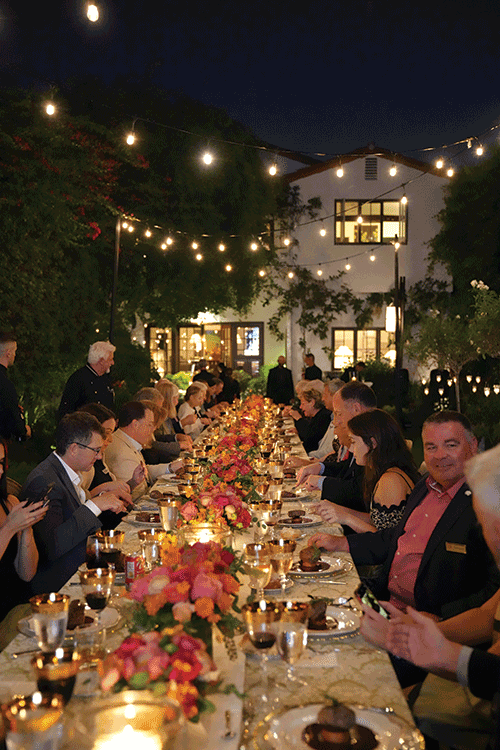 The evening was the first of its kind in the University's history. But if Dan has his way, not its last. Part of Dan and Hal's vision is for alumni across the country to host similar evenings to then encourage others to engage with and support the University. Dan shared, "I saw an opportunity to share how I feel about the University. My education impacted my life. I know South has done the same for many others.
"My hope is they will feel and do the same as Hal and I. Jo Bonner says, 'South is the Flagship of the Gulf Coast.' He is right. It is time that we toast our University and its success. I call on all who can to join with me and Hal to support South's growth and expansion."
Sullivan added, "I love Dan and Hal. Yes, they make my job easier and more fun, but also, they have truly become good friends. They took their idea and with nothing more than logistical support from the University, implemented it with perfect tact, taste and vision. They brought together alumni and friends who can make a difference to so many, explained how much we need them and showed how they can support South. Now they are encouraging others to do the same. I'm pleased to share that USA Health will bring Chef Moyal to Mobile for a special culinary medicine fundraiser in the near future. Look for more information soon."
"It is so important that we engage our alumni throughout the country to tell the stories of our great University, the Flagship of the Gulf Coast," said President Jo Bonner. "Now more than ever, it is imperative that events like Dan and Hal's are held across the country to connect our alumni, remind them how important South has been to their lives and how they can impact others."
---
---