---
Posted on November 19, 2018 by Alumni
Alumni
---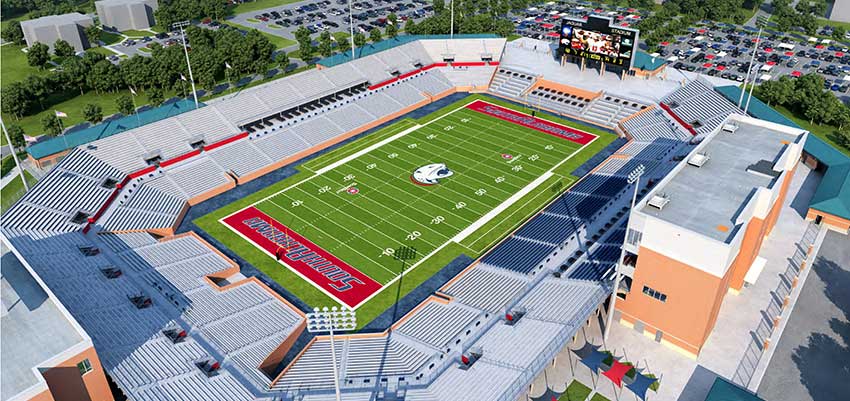 ---
The University launched a fundraising campaign in August with the goal of building an on-campus football stadium by 2020. The campaign, called Get On Campus, is part of a comprehensive effort to fund the new stadium.
"Our students, fans, alumni and visiting fans deserve to be on our beautiful campus to enjoy a traditional college football game day," said Joel Erdmann, the University's athletic director.
The state-of-the-art stadium will provide students, alumni and the Mobile community with an unrivaled fan experience at Jaguar football games and will significantly elevate the University's growing national profile in athletics, academics and student life. The future stadium will be located adjacent to the Jaguars' football field house and newly opened Jaguar Training Center.
The University has committed that the stadium will not be paid for with tuition dollars from students.
"We are committed to having an on-campus football stadium at South, and we are committed to doing everything within our power to have that stadium open for the 2020 football season," said President Tony Waldrop. "We also are committed to not using our students' tuition dollars to build a stadium."
Fundraising efforts for the stadium will be ongoing. The Get On Campus campaign will be evaluated continuously, and the campaign's progress will determine how quickly the University can move ahead to the next phases of construction.
"Now is the time to give all of our alumni, fans and supporters the opportunity to get involved in the Get On Campus campaign, which provides opportunities for everyone, at all levels of support, to help make our on-campus stadium a reality," said Waldrop.
---
---