A playground for innovation
---
Posted on December 12, 2019 by Alumni
Alumni
---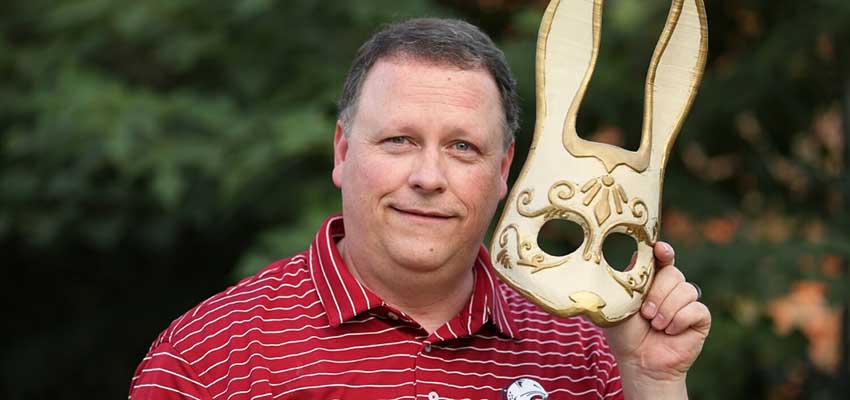 Rick Green '10, '18 turned a love of barbeque and a solution to his broken charcoal smoker into a community makerspace
---
Like many great inventions, Rick Green's was born out of necessity. A necessity for the perfect smoked ribs.
Green is an instructor in the University of South Alabama's School of Computing, and he's always had an aptitude for learning how things work. So, when his favorite barbeque restaurant closed, Green took matters into his own hands. He bought a charcoal smoker and began to perfect his technique. But after two years, his beloved smoker died.
Instead of tossing it to the curb, Green decided to learn how to not only make it work again, but to transform his budget-smoker into a technologically-advanced cooking machine. He found an Arduino controller (an open-source electronics platform based on easy-to-use hardware and software), a few other inexpensive items and created a high-tech, computer-controlled smoker. Thus, the idea for a makerspace was born.
"I called my college buddies and said, 'hey, I'm going to start this thing called a makerspace and it's going to be based around this Arduino controller," said Green. "That's where it started."
Green, who graduated with bachelor's and master's degrees from USA's School of Computing, always wanted to teach. At the time, he worked as the information technology manager at Lenzing Fibers in Axis, Ala. The makerspace filled Green's desire to share his talents. He started small, teaching computing, electronics, robotics and 3-D printing at the downtown Mobile Public Library at no charge. First, his students were predominately kids; then adults became interested. He realized there was an opportunity for growth.
A makerspace is a collaborative facility where people of any age can gather to learn new skills or hone skills they already possess. The tools can range from high-tech 3-D printers to low-tech woodworking devices. The emphasis lies in creative process.
Until recently, Green's space, named Mobile Makerspace, shared a small building with another nonprofit organization on St. Francis Street. Despite its tight quarters, it housed several 3-D printers, a laser cutter, a variety of woodworking tools and a CNC (computer-controlled carving machine).
The premise is simple. Anyone who is interested—or even just curious—about the tools and their creative possibilities, can use the makerspace. There's a membership fee, which includes access to the tools as well as to the people who know how to use them.
Green emphasizes that no experience is necessary to join. "I've taken people who've never heard of a laser cutter, and within 20 minutes they are cutting their first thing," Green said. "It's really that simple."
Members have created everything from simple wedding cake toppers to elaborate cosplay costume pieces. Two students from South's College of Engineering utilized the makerspace to build drone parts for their senior projects.
In October, the Mobile Makerspace relocated to another downtown building, which offers 2,500 square feet. Green is excited about the possibilities this more spacious area holds for the community, including more tools, a larger workspace and a finishing area.
At its core, Green emphasizes, the Mobile Makerspace is a place to learn.
"It's a playground for you to figure things out, and make mistakes," said Green. Just like perfecting the perfect barbecue.
---
---