Conversing in another culture
---
Posted on December 12, 2019 by Alumni
Alumni
---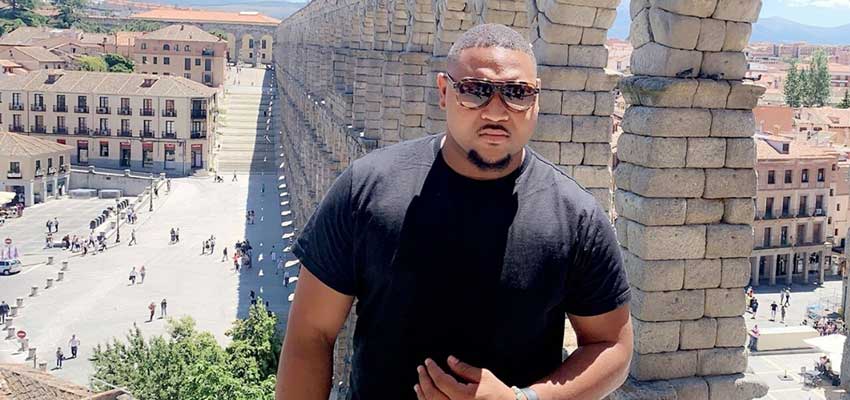 ---
Kelvin Herring has always loved meeting new people. It's what drew him to the field of psychology and the goal of one day becoming a counselor. But as a first-generation college student from Ashville, Ala., he never dreamed he would have the opportunity to create friendships that span an ocean.
Thanks to a South Alabama admissions counselor who visited Herring's high school his senior year, he did just that. Herring visited South's campus, enrolled and the rest, as they say, is history.
Herring spent six weeks last summer studying Spanish language at the Universidad de Alcalá in Madrid, before graduating from South in August with a bachelor's degree in psychology with a minor in Spanish.
Growing up around Spanish-speaking relatives, Herring was familiar with the language but never became fluent. After studying Spanish for four years at South, he knew he wanted to really immerse himself in the language before graduating. Associate professor of Spanish, Dr. Zoya Khan, encouraged him to take advantage of a study abroad program in Spain.
"It completely exceeded my expectations," said Herring.
The intimate class setting at Universidad de Alcalá forced Herring to acclimatize quickly to speaking with his Spanish professors. "Within the course of a week, I got used to their dialect and speed," Herring said. "It helped me to adapt to the new culture."
Adjusting to the language meant Herring was able to accomplish his main objective: meeting people. During his free time, Herring explored the streets of Madrid, Barcelona and Toledo. He struck up conversations in shops, at the local barber shop, and, of course, with his professors and classmates.
A few people were taken aback by his outgoing personality, but that didn't bother Herring. "People were mostly open and wanted to ask questions," he said. And Herring was happy to oblige.
Herring's openness to having meaningful conversations with strangers has served him well throughout his psychology studies at South. To gain more hands-on experience, one of Herring's professors suggested he take an internship at Lifelines Counseling Services in their crisis call center during his junior year. As part of the internship, he received extensive training to become a suicide prevention counselor—a challenge for even the most experienced adults.
However, Herring has never shied away from a challenge. "I learned a lot, and I found it very rewarding," he said.
Herring would like to return to Spain in the future. But first, he has a little more studying to complete. He started graduate school this fall at South to complete a master's in psychology and plans to earn his doctorate as well.
And just like his dream of studying abroad, Herring knows with hard work and determination, he will transform those goals into realities. "I made it happen," said Herring, "and I'm proud of myself for that."
---
---