---
Posted on June 28, 2021 by Thomas Becnel
Thomas Becnel
---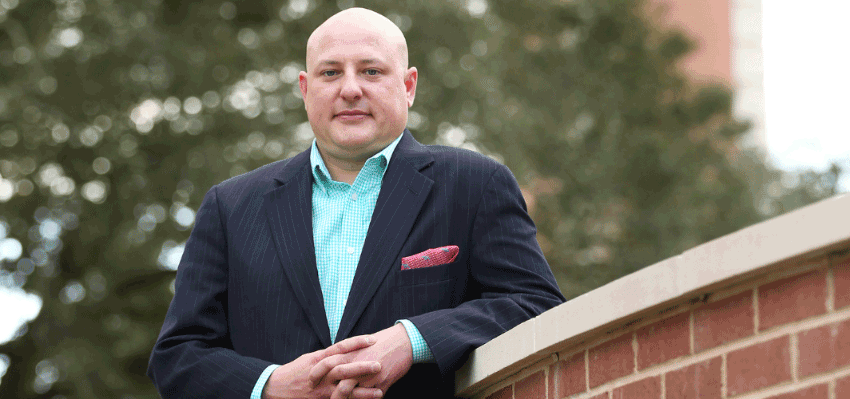 Horseman becomes activist in Washington, D.C.
---
After graduating from the University of South Alabama in 2003, Marty Irby worked in real estate and won equestrian world championships before becoming president of the Tennessee Walking Horse Breeders' and Exhibitors' Association.
When he went public with criticism of "soring," which uses pain to train horses in a distinct walking style, his career in Tennessee was over.
"I felt a lot of backlash – it was very ugly," said Irby, a 42-year-old native of Mobile. "People stopped doing business with me. I had a development and construction company at the time, and most of my clients were horse people, so our business went under. I was getting all kinds of death threats and terrible things."
He fled to Washington, D.C., and wound up starting a second career as a press secretary and legislative aide for a Kentucky congressman. Irby became "the horse guy" in Congress. Then he worked as a lobbyist and helped start the Animal Rights Action organization.
Now he lives in a 650-square-foot apartment three blocks from Capitol Hill. He jokes about being a meat-eating Republican in a political movement dominated by what he calls vegan leftists.
That's his niche.
"There's no one like me – I'm it," he said, laughing. "Actually, there is one other Republican animal rights lobbyist, and I'm the one who hired her."
Irby's success in lobbying has been noted by The Hill newspaper in Washington, D.C. His animal rights activism was honored by Queen Elizabeth II in 2020. Celebrated horse trainers joined in her praise.
"Marty Irby is our hero and has paid a huge price in his own life in the interest of being fair to the horses," said Monty Roberts, founder of Join-Up International. "Along with thousands of supporters, Her Majesty and I strongly recommend the necessary rules and regulations to remove violence from this breed and all other competitions involving the horses we love."
Irby grew up in Mobile and attended the UMS-Wright Preparatory School. At the age of four, he became a competitive equestrian. He won his first world championship at the age of 24.
At South, Irby went to school while working full-time in his family's real estate business. It took him six years to earn a degree in communications, but he says that training has been valuable in business and politics.
"My writing skills, that's something I use every day," Irby said. "At Animal Rights Action, I don't have a communications director. I do my own press work. I've had articles published in all kinds of national publications."
During his time at South, Irby joined the Sigma Chi fraternity and served as president of the Young Republicans of Mobile. In that office, he followed Clay Barclay, president of BAC Adjusting in Mobile, who became a business partner and political ally.
Irby's lobbying career came as a surprise to some of his friends.
"It was different – I didn't expect it – but he found a passion," Barclay said. "When he finds something he has a passion for, he attacks it like crazy. He's probably been the most effective animal rights activist ever. He got President Trump to sign, what, seven bills?"
Irby says it was six bills, actually, ranging from the Horseracing Integrity and Safety Act to the Rescuing Animals with Rewards Act. He lobbied Lara Trump, the president's daughter-in-law, suggesting that animal rights were a good political issue with suburban voters.
In 2019, he was invited to the Oval Office, where President Trump signed the Preventing Animal Cruelty and Torture Act.
"It was surreal, completely surreal," he said. "We were the last group of the day and he spent like an hour with us. Kellyanne Conway was there and Pam Bondi – she's a good friend and animal person. And then he's like, where's Lara? She's not here. Let's get Lara on the speaker phone. He's sitting there at the Resolute desk, and I'm short, so I've got my right hand on the Resolute desk during this whole deal, and I got to say my little piece on national television."
Irby says that bill signing will be a good story for a book about his experiences in Alabama, Tennessee and Washington. He has about five chapters written. His working title is "Crazy Animal People."
"I think it's catchy," he said. "I bought the website and applied for the trademark."
Irby returns home to Mobile about four times a year. He visits his grandmother and catches up with old friends. He likes to eat at Morrison's Cafeteria and the Big Time Diner.
Alabama politics is one of his passions. He's considered running for office. He talks about moving home to South Alabama.
People kept telling Irby he needed a hobby, so he began collecting rare coins during the coronavirus pandemic. He also adopted a rescue dog named Spencer.
In Washington, D.C., his life revolves around politics, but Irby has to laugh when he's described as a Washingtonian.
"I am not a swamp rat," he joked. "I've lived here eight years, but I feel like I'm pretty in touch with people outside the Beltway. I'm very anti-establishment."
---
---